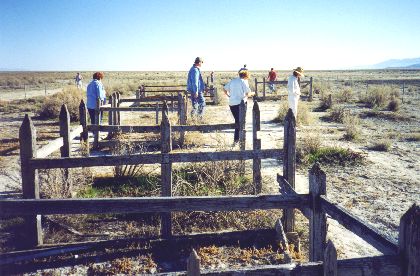 Photograph: Steve Berlin
Made 10/18/97 at Kelton, UT, about 55 miles east of Lucin, UT.
View looking generally south. This is what is left of the cemetery at once-thriving Kelton. Trains met freighters and stage lines here that pushed into the intermountain north of Idaho, Montana and even Oregon. In the 1870s some six million pounds of goods were transferred at Kelton from trains to wagons each year. Goods and passengers also moved from the rich north country onto trains here and all the activity made for prosperous businesses and lively times for residents and visitors alike. Kelton had its share of wild west excitement and even reports of daring stagecoach robberies near town can be found in area newspapers.
Railroad facilities were typically sited every ten miles or so of track and Kelton had shops, a turntable, water tank and pumphouse. Redwood pipelines brought water to the town from the Raft River Mountains.
[ Return to Field Day Exhibit ]
[ Return to Gallery ] [ Crossroads Home ]
Photographs may not be used without permission of their copyright owners.
Original content copyright © 1997-2001 by
Utah Crossroads Chapter, Oregon-California Trails Association. All rights reserved.
Site design by Steven L. Berlin
E-mail regarding this site: Utah Crossroads Webmaster
Revised: 10/25/04