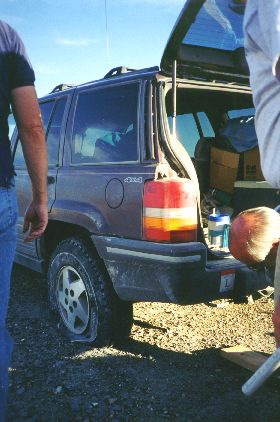 Photograph: Steve berlin
Made 10/18/97 a few miles east of Kelton, UT.
On this trip not even brand-new tires conferred presidential immunity on George Ivory, President of Utah Crossroads Chapter who gets set to change another ruined one. The only bit of good luck our group could claim for the day was that at least no one's vehicle was struck twice!
[ Return to Field Day Exhibit ]
[ Return to Gallery ] [ Crossroads Home ]
Photographs may not be used without permission of their copyright owners.
Original content copyright © 1997-2001 by
Utah Crossroads Chapter, Oregon-California Trails Association. All rights reserved.
Site design by Steven L. Berlin
E-mail regarding this site: Utah Crossroads Webmaster
Revised: 10/25/04