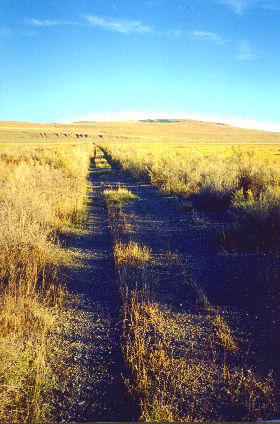 Photograph: Steve berlin
Made 10/18/97 About 24 miles west of Promontory Summit UT.
Toward the end of the day, as the shadows lengthened and we neared Golden Spike National Historic Site at Promontory Summit colors deepened and we left behind the scattered vegetation of the semi-desert and traveled through thick greasewood and bunch grass.
[ Return to Field Day Exhibit ]
[ Return to Gallery ] [ Crossroads Home ]
Photographs may not be used without permission of their copyright owners.
Original content copyright © 1997-2001 by
Utah Crossroads Chapter, Oregon-California Trails Association. All rights reserved.
Site design by Steven L. Berlin
E-mail regarding this site: Utah Crossroads Webmaster
Revised: 10/25/04