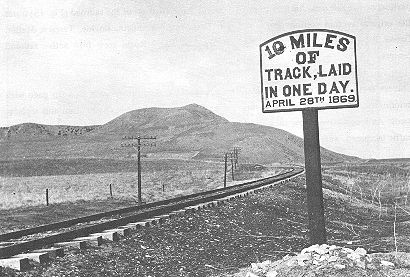 Photograph: Southern Pacific Railroad in Rails East to Promontory
Made 1869 just west of Promontory Summit
The race to build its railroad was a high-stakes enterprise for each company. Work on parts of the grades had extended so far ahead of actual track-laying that the Central Pacific may have been building road in Wyoming while the Union Pacific graded into Nevada. Even after Promontory Summit had been chosen for the meeting of the rails competition remained high.
Early in 1869 Charles Crocker of the Central Pacific boasted that his crews could lay ten miles of track in a single day. UP workers laughed at the claim. On April 28, 1869 CPRR Chinese coolies and Irish track-layers set out to prove it. In a feat of organization, skill, strength and determination not equaled in the annals of railroad building before or since, by lunch these men had put down six miles of new track and by the end of the day the team had laid its full ten miles. Each tracklayer had lifted 125 tons of iron. Over 25,000 ties, more than 3,000 rails and 14,000 bolts had been set. To prove the road was good an engine ran up and back at high speed. A sign still commemorates the men's epic accomplishment.
[ Return to Field Day Exhibit ]
[ Return to Gallery ] [ Crossroads Home ]
Photographs may not be used without permission of their copyright owners.
Original content copyright © 1997-2001 by
Utah Crossroads Chapter, Oregon-California Trails Association. All rights reserved.
Site design by Steven L. Berlin
E-mail regarding this site: Utah Crossroads Webmaster
Revised: 10/25/04