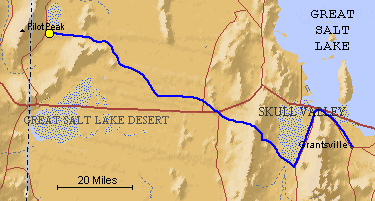 The blue line is the Hastings Trail and the yellow dot is the location of the camera.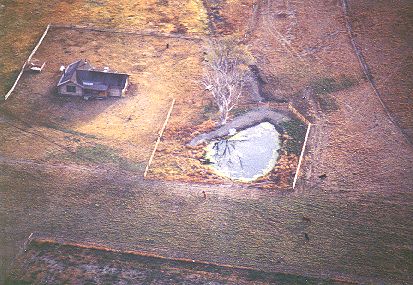 Photograph: Copyright © 1994 Roy D. Tea
Made 1994, Donner Spring, Utah.
Donner Spring, its sweet waters providing literal salvation to people and animals coming off the desert 150 years ago is seen here after Utah Crossroads members built a protective fence around it. A kiosk was added with interpretive panels to explain to modern visitors the history of this critical water source. A graded dirt road runs nearby and carries the occasional traveler on what is now a scenic but still remote back-country byway.
The enclosure and kiosk were dedicated in conjunction with the OCTA national convention in Salt Lake City, held in August, 1994. More than 300 people attended the emotional ceremony including Marta Lienhard Vincent, an accomplished musician and descendant of 1846 Hastings' Cutoff pioneer Heinrich Lienhard. It had been nearly 150 years since so many people gathered here. At this place of refuge from the salt desert's ravages for her ancestor and so many others, Marta's Highland bagpipes sang Amazing Grace.
[ Return to Hastings Cutoff Exhibition ]
[ Return to Gallery ] [ Crossroads Home ]
Photographs may not be used without permission of their copyright owners.
Original content copyright © 1997-2001 by
Utah Crossroads Chapter, Oregon-California Trails Association. All rights reserved.
Site design by Steven L. Berlin
E-mail regarding this site: Utah Crossroads Webmaster
Revised: 10/25/04