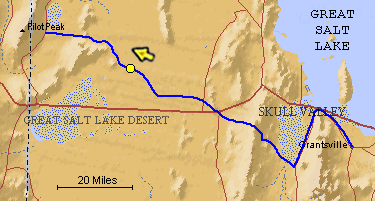 The blue line is the Hastings Trail, the yellow dot is the location
of the camera and the yellow arrow is the camera direction.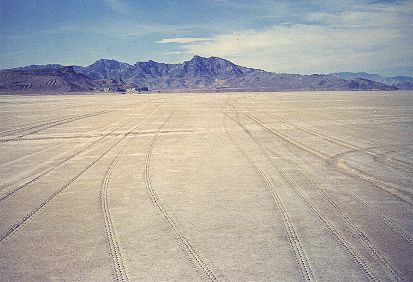 Photograph: Copyright © 1986 Roy D. Tea
Made 11/5/86, Great Salt Lake Desert, Utah.
View looking generally northwest. The Hastings/Donner-Reed Trail is seen at the center of the photograph heading for the Silver Island Mountains. On this portion of the salt mud flat the trail is easily distinguished from the fresh tracks of the modern vehicles and can be identified by the lighter-colored traces across the plain. At the extreme right is Silver Island Point where the wagons went around this mountain barrier. Floating Island is the dark object at the top of the plain on the far left.
[ Return to Hastings Cutoff Exhibition ]
[ Return to Gallery ] [ Crossroads Home ]
Photographs may not be used without permission of their copyright owners.
Original content copyright © 1997-2001 by
Utah Crossroads Chapter, Oregon-California Trails Association. All rights reserved.
Site design by Steven L. Berlin
E-mail regarding this site: Utah Crossroads Webmaster
Revised: 10/25/04