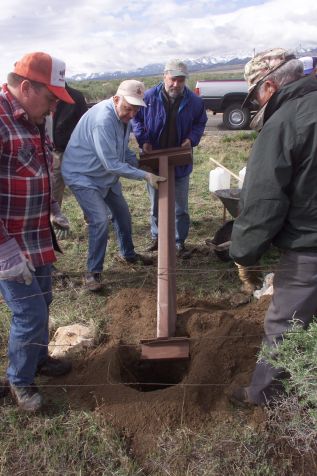 Photograph: Todd Schvaneveldt
Made near Grantsville, UT.
Vern Gorzitze, OCTA board member, and Jeff Carlstrom, Crossroads Archeology chair, wrestle one of the the heavy steel markers into place. A tractor was used to bore the holes, heavy stones were placed and concrete was made at the sites to anchor the posts permanently. The manpower came in very handy for accomplishing all the necessary tasks.
[ Return to Gallery ] [ Crossroads Home ]
Photographs may not be used without permission of their copyright owners.
Original content copyright © 1997-2001 by
Utah Crossroads Chapter, Oregon-California Trails Association. All rights reserved.
Site design by Steven L. Berlin
E-mail regarding this site: Utah Crossroads Webmaster
Revised: 10/25/04