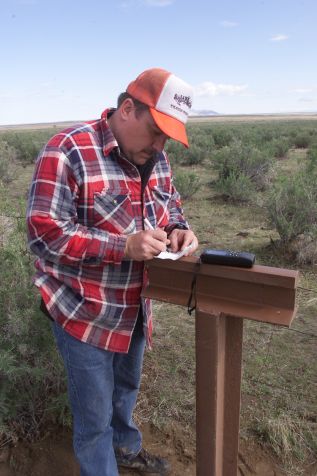 Photograph: Todd Schvaneveldt
Made near Grantsville, UT.
Ed Otto, Crossroads Preservation Officer, uses a handheld GPS unit to record the position of this marker. GPS promises to significantly improve our ability to map the trails and locate cultural resources and monuments.
Stainless steel plaques have been prepared with brief histories of the trail in the area of each marker. They are riveted to the crosswise piece of rail and are expected to be both informative and resistant to vandalism.
[ Return to Gallery ] [ Crossroads Home ]
Photographs may not be used without permission of their copyright owners.
Original content copyright © 1997-2001 by
Utah Crossroads Chapter, Oregon-California Trails Association. All rights reserved.
Site design by Steven L. Berlin
E-mail regarding this site: Utah Crossroads Webmaster
Revised: 10/25/04