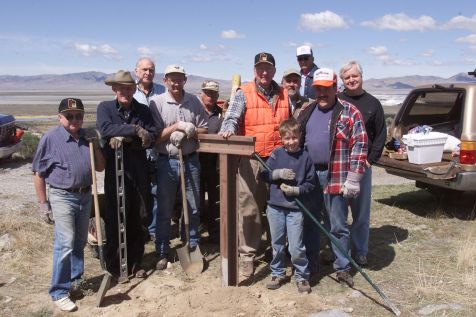 Photograph: Todd Schvaneveldt
Made at Timpie Point near Grantsville, UT.
This marker is not on the trail per se but is on a bench a few hundred feet above the valley floor at Timpie Point. This is the place many historians believe fur trapper and explorer Jedediah Smith came in 1827 after crossing Nevada from California and first caught site of his beloved Great Salt Lake and Wasatch Mountains.
For this party of trail explorers and markers it was the perfect place for lunch. Left to right are George Ivory, Greg Childs, Vern Gorzitze, Mike Tea, Boyd Blanthorn, Roy Tea, Ed Otto's son Wes, Jeff Carlstrom, Oscar Olson, Ed Otto and Steve Berlin.
If you have time to download a giant (300K) version of this picture, click here.
[ Return to Gallery ] [ Crossroads Home ]
Photographs may not be used without permission of their copyright owners.
Original content copyright © 1997-2001 by
Utah Crossroads Chapter, Oregon-California Trails Association. All rights reserved.
Site design by Steven L. Berlin
E-mail regarding this site: Utah Crossroads Webmaster
Revised: 10/25/04