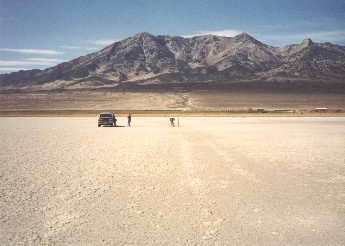 Photograph: Al Mulder
Made on the Salt Desert east of Donner Spring, UT.
Marking the Hastings Cutoff / Donner-Reed / Great Salt Desert Trail. Donner Springs and Pilot Peak are in the background. These last ten miles of the trail before reaching water after traveling nearly a hundred miles without a well or watering hole were the scene of great suffering by the pioneers and their animals. Nevertheless, hundreds made it across this portion of the cutoff before its reputation for extreme hardship made it fall out of favor even with those looking for the shortest possible route to California.
[ Return to Gallery ] [ Crossroads Home ]
Photographs may not be used without permission of their copyright owners.
Original content copyright © 1997-2001 by
Utah Crossroads Chapter, Oregon-California Trails Association. All rights reserved.
Site design by Steven L. Berlin
E-mail regarding this site: Utah Crossroads Webmaster
Revised: 10/25/04