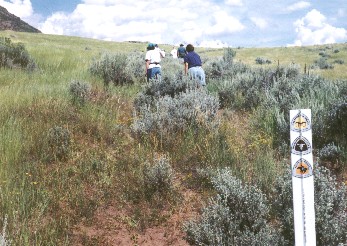 Photograph: Al Mulder
Made in East Canyont, UT.
Chapter members walking up ruts along the Donner-Reed, Mormon and California trails north of East Canyon Reservoir, east of Salt Lake City. Note Carsonite marker bearing the trail logos. This is a much-used portion of the famous Hastings Cutoff and is only perhaps half an hour from Salt Lake.
[ Return to Gallery ] [ Crossroads Home ]
Photographs may not be used without permission of their copyright owners.
Original content copyright © 1997-2001 by
Utah Crossroads Chapter, Oregon-California Trails Association. All rights reserved.
Site design by Steven L. Berlin
E-mail regarding this site: Utah Crossroads Webmaster
Revised: 10/25/04