What to Eat (and drink!) in the "real" Spain
By Lawrence Bohme
Here in Montefrío, you are far from the international restaurants and British pubs of the Costa del Sol - the system is andaluz only. Few small Spanish towns have proper restaurants that are up to much anyway - what people do here when they want to eat out is order tapas. Tapas are the tasty titbits you are always served free with each drink, one of the nicest things about living here! When you want to have a meal, you simply take a table and order a "ración" (don't worry, this has nothing to do with wartime rations, but simply means a rather large portion or serving - you can also ask for a "media ración", a half portion) of the various tapas. Usually a few raciones plus a dish of salad and bread will do a hungry couple very nicely. The custom here is for everyone to eat from the same dishes by jabbing what they want Arab style, but if you ask for individual plates - platos - they'll be brought to you.
Here is a basic description of what most taverns have to offer. The big favourite (everywhere in Spain, no matter how far from the sea) is deep-fried fish: calamares are rings of squid; boquerones are fresh anchovies (you munch the whole crispy thing); lenguado are small sole; gambas are shrimp or prawns of varying sizes, usually served a la plancha(in Spanish, "frito" means deep-fried and "a la plancha" means pan-fried) with heads, legs and all - you peel them yourself (it's messy, but fun). Slices of deep-sea fish are usually done a la plancha: aguja (needlefish), rape (this is the one which makes the Brits howl, especially the usual translation of the dish "rape a la marinera - rape, seaman's style") which is nothing more frightening than angler (what the French call "lotte"), and pez espada (swordfish). Salad is "ensalada" and usually composed of tomatoes, lettuce, onions and olives and served without dressing - you pour on the aceite (oil) and vinagre yourself.
One of the most incongruous things about Spanish cooking is the apparent inability to make tasty salads- they don't even take the trouble to shake the water out of the lettuce! But they make up for this minor crime with what is perhaps Spain's greatest contribution to world cuisine: gazpacho, a summertime chilled soup which is essentially a liquid salad thickened with bread dough, and flavoured up with lots of rich olive oil, garlic and vinegar (to be good, it must be made with virgin unrefined oil). It can be drunk as a soup, or simply as a beverage to accompany your fried fish (that's the way it's best, I think).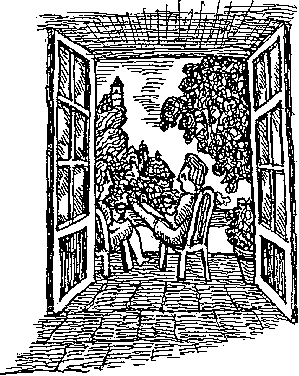 Fried potatoes - patatas fritas, fried in olive oil like everything else - are usually good; the local way of fixing potatoes is "patatas a lo pobre" (potatoes poor man's style) which is delicious but only for those who don't mind large amounts of olive oil!
The Spanish eat lots of eggs, but never boiled - they either fry them (huevos fritos) or make an omelette - tortilla (no relation to the Mexican variety). There are two basic kinds of omelette - "tortilla española" and "tortilla francesa". The Spanish type is a potato omelette, with lots of potato and onions - delicious, very filling and always a good stand-by if you don't know what else to order (it's often served cold, in wedges, as a tapa). The "French" type is a plain omelette with nothing in it (shows what they think of the French - had it in for 'em ever since Napoleon was here!). Lightly-done omelettes are unheard of - they're fried to the consistency of leathery pancakes.
Ham is the great delicacy here, but not the cooked kind you're used to, which, strangely, is called York Ham - jamón de York (pronounced ha-MON-day-YOR). The local cured variety is similar to Jambon de Bayonne or Parma Ham, and is called jamón serrano, mountain-cured ham. Try a bit to see if you like it, it's delicious but takes getting used to - here we like it on the pink, raw side, but in the cities you can get the more cured varieties. Ideally, Spanish ham should be sweet rather than salty. There are several varieties of pork sausage, mainly chorizo (spicey and tender) and salchichón (drier and very similar to Italian salami).
Beef is something of a luxury here and called ternera, which means veal although real baby veal is unknown. You can order a "filete de ternera" in any decent place, this being a thinnish beefsteak fried in... olive oil. You can get lamb chops in most eating places: "chuletas de cordero". They mercilessly over-fry them, for my taste. Strangely, herbs such as rosemary and thyme are not used in Spanish cooking, except to flavour table olives and making medicinal tea; friends are always surprised when they eat at my farm, because I go out on the path behind my house, come back with a clump of "tomillo" and rub it over the rabbit before it goes on the coals... Quite unheard of!
Wines and beers: white wine is "vino blanco", red is "vino tinto", a glass of draught beer is "una caña" and a small bottle of beer is a "quinto".
Sherry: Spaniards don't usually drink sweet sherry (Jerez), although it can be found (the most popular sweet wine is vino de Malaga). The favourite is the dry, pale variety, and if you want a glass just say "un fino". When in the Granada region you should try the local wine from the Alpujarra, called "alpujarreño" or simply "costa", a semi-sweet claret only sold from the keg.
Most restaurant-bars will prepare you a Sangria, but a less sweet and much more refreshing drink is the very popular vino de verano (summer wine) which is simply soda water and red wine on the rocks. In Granada and my town of Montefrío, unlike most other parts of Spain, the tapa tradition survives; indeed, in these parts bars sink or swim here on the quality of their tapas, which should be hot (not olives or crisps out of a packet) and different for every round of drinks. Listen to the barman shout to his wife in the kitchen: "Tres segundas" (three seconds) or "Cuatro primeras" (four firsts) - they have the various tapas of the day numbered so that you can have 5 or 6 drinks without getting the same thing to munch on...
One of the great treats in Spain is the "Spanish breakfast" - of course, there are the legendary "chocolate con churros" but I find that rather heavy on the stomach; I'm talking about "pan con aceite". A roll is nicely toasted in two halves and then spread with crushed fresh tomato pulp and olive oil, and a light sprinkling of salt. It sounds terrible, but once you try it you never want anything else!
---
Favorite Spanish Recipes | Mas recetas de España | More Spanish Stories