Chapter 1
Montefrio, Last Stop
By Lawrence Bohme
Poet and translator Lawrence Bohme reminisces on the summer of 1960, and his discovery of the Andalusian town which is now his home.
People often ask how I wound up living in a village in which I'm the only foreigner among some 8,000 Andalusians, and consequently far removed from the sophisticated international atmosphere of Marbella, Almunecar and Mojacar. I answer that whenever I get bored (which is only now and then) I drive down to Granada, where I mingle with Frenchmen, Dutchmen, Muslims, Buddhists, tourists and artists, and even with other Englishmen in cultural exile such as myself; I have lunch in a Moroccan restaurant in the Albaicin, I admire the beautiful women for whom Granada is famous and then I go back happily to my olive trees, to my view of Parapanda Mountain and to the goatherd's daily visit (when he drives his goats out from the village and when he drives them back). The dirt track which leads to my cortijo, when wet, resembles a film about the Vietnam war, but I have a Russian jeep which can drive its way up just about anything but the olive trees themselves, as well as two phone lines (for voice calls and fax) strung on the 22 wooden poles which a nice lady at Telefonica had put in just for me. I recently hooked up to the Internet too, so I'm not as isolated from the "world" as one might imagine.
But when I first came to the village, 35 years ago, things were very different. The Montefrio of those days was similar to a present-day North African village - women in black, almost total invisibility of girls of marrying age, thin boys with short pants and big eyes, mules, flocks of goats, dust, one or two cars and a decrepit bus which came and went to Granada, as the only sign that anything else existed outside of the village. They didn't even have television, unimaginable as this seems today: when a teacher friend of mine recently mentioned the fact to his media-conscious pupils with their psychedelic T-shirts and astronaut-sized track shoes, one asked him in amazement, "How could you live?".
But they did have flamenco. A few days after I arrived in Madrid from New York, at the beginning of the summer, I heard a conference about cante hondo at the students' residence where I was boarding; I later asked the young speaker where I could hear flamenco in its natural setting rather than in a concert hall. He told me an excellent singer who was the butcher of his village in Andalucia and I decided to pay him a visit that August.
In the long run, Montefrio turned out to be by far the most crucial event of that summer for me, but when I was living it all, my discovery of the village represented only one fascinating revelation among half a dozen others. I was 18, poetic-looking, and nurtured, let us say, a rather high opinion of myself by comparison with the rest of humanity - an appraisal, which, thus far, has only been partially borne out, and I'm already 53. C'etait la jeunesse!
For me, the summer of 1960 didn't begin in Montefrio but in Pamplona, with the memory of The Sun Also Rises still palpitating in my memory. Three of us went there from Madrid on a tiny motor scooter with sidecar: myself, a Swede and a Spanish student from La Mancha (who was the owner of the vehicle). We unrolled our sleeping bags in a grove of trees on the bank of a river near the town, we filled our leather wine-skins with red wine (at 6 pesetas per litre) in the "bodegas" and went dancing through the streets, each with a red kerchief tied around his throat. We fell in with a Parisian hitchhiker who looked like Gerard Philippe and who engaged a bull in some serious capework in the midst of the stampede, using his windbreaker. When they let him out of jail, after the festival was over, I joined my new and fascinating friend, who like me was in love with literature and travel, and we set out together on the road of the summer bullfight festivals, the "ferias taurinas".
Since Yves was travelling with a very small amount of money, we hitch- hiked, although in real terms it was not that much cheaper than taking the train. Hitch-hiking then was very fashionable among young people of our ilk; you felt proud of every mile you travelled at someone else's expense, and it was almost a point of honour not to give up and take the train. In those years there was still very little traffic on Spain's highways, and I frequently felt like "throwing in the towel" and paying, but my friend, who had even hitch-hiked through Yugoslavia, had his principles and would not allow it. The same applied to food: with ridiculously cheap restaurants everywhere, we had to live on tins of sardines with bread and tomatoes, because he felt that eating in restaurants was only for the bourgeois. But in spite of the somewhat austere conditions imposed by my friend, it was a marvellous trip.
In Valencia, we followed the rise of the prodigy of Pamplona, the boyish Paco Camino, and we even saw him rise in the real sense of the word as well. It was one of the truly unforgettable moments of my bullfighting years. Camino was "dedicating" his bull to the sunny (and cheap) side of the plaza (where, of course, we were sitting with our wine-skins) when the bull, which had been standing as still as a statue at the other side of the ring, suddenly began to run towards him, like a silent locomotive. Camino did not realize that the public's frantic screams were meant to warn him of the impending disaster, and he went on smiling and waving his hat, until the bull's broad horns neatly surrounded his waist. Aghast, we saw him twirl up in the air exactly like a rag doll, with his smile still on his lips. Camino was even elegant when the bull threw him; and a few weeks later he had recovered from his bruises and was killing again, elegantly.
It took us three days to get from Valencia to Malaga, since not many drivers were willing to take two giants with knapsacks aboard their tiny SEAT 600's. We passed the Pe cn de Ifach, dwarfing its coastline of poor, whitewashed houses, and the fishing village of Benidorm, which resembled some Greek island washed up on the shore of the shining sea; by the evening of the first day we were in Huercal Overa, where the sidewalks were so clean that we unrolled our sleeping bags to spend the night on one, until a pair of Civil Guardsmen invited us to sleep in the jail, which was just as clean and empty as the sidewalk.
By the afternoon of the second day we were in the sugar cane fields of Salobrena. The village on its hump of rock glistened in the sun like a citadel of The Thousand and One Nights; after waiting for several hours without luck, we decided to spend the night and continue the next day. There was no one there except the local people, and the streets seemed to have been carved out of snow, radiant with sea-blue light. Our enchantment was such that we had to touch the whitewashed walls and steps and fountains to be sure they were not the product of a mirage; and at the top of the hill stood the Moorish castle, squat and solid like a great lump of brown sugar half-melted by the sun. The owner of the only pension told us that Cervantes had slept there; but what impressed us most was the old woman in black who sat all day in the crudely paved patio, without moving or speaking. But when she saw us cross the courtyard to go up to our room with our tins of sardines, tomatoes and bread, thus avoiding the funereal (and for Yves, bourgeois) dining room, she raised her black-hooded head and gave out a piercing, wailing cry, directed at no one in particular except, perhaps, to God to tell him that the barbarians from the north ate bread and sardines just like any cristiano: "Van a CO-MER. VAN A CO-MER!" (They're going to eat!).
In those days, bullfighting was highly fashionable among artists and intellectuals, largely due to the writings of Hemingway and the paintings of Picasso, and Torremolinos was the in place to stay for the happy few (this was before the advent of the "happy hours"). All the jet-setting aficionados gathered there; Hemingway himself was absent (his last summer in Spain was the previous one, which he christened "The Dangerous Summer"); but, strangely, there was someone whom the Spaniards called "el falso Hemingway", an eccentric American millionaire who resembled him, when seen from a distance of about 20 yards, which was enough - in the absence of the real thing - for all the provincial newspapers to write about him incessantly. This character had a peculiar hobby: he travelled around the capitals of the world looking for strange names - for example, he claimed to have discovered, in the Civil Registry of Caracas, that someone had christened his child with the name of... Jesus Lenin! Inevitably, there was also the rich, spoiled American girl who followed the bullfighters rather than the bullfights themselves; ours was called Virginia and she drove from one fair to the other (although she refused to give us a lift from Valencia to Malaga, perhaps because we weren't bullfighters).
I have to admit that the Hemingway look-alike left me as cold as a dish of leftover paella, that the torero-crazy Virginia struck me as being stupid and vulgar, and that even Orson Welles - whom I later recognized for the cinematic genius which he was - only caught my attention because, the day his massive bulk lumbered up to the table we were sharing with "Hemingway" at a sidewalk cafe in Valencia, Yves gazed at him as if he were a living legend. Sadly, Welles was always more admired in Europe than in his native land, and I was coming from North America; I was not to discover Citizen Kane and The Lady From Shanghai until later, in the student cinemas of the Latin Quarter.
No - the great celebrity of the summer for me was a Frenchman, with whom I was well familiar thanks to my artistic mother: the poet, painter, actor and (most of all) great personality Jean Cocteau, only three years before his death. He was staying in Torremolinos where, a few days after our meeting, a Civil Guardsman caught him behind a boat on the sand doing "something" with a young fisherman, and he spent a few days in jail until the French authorities could come to the rescue of their grand homme. We saw him in the lobby of the Malaga hotel where the bullfighters stayed,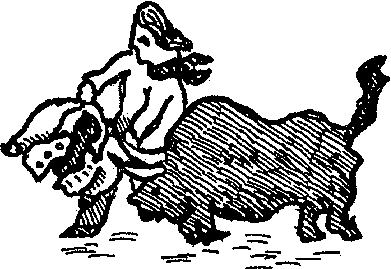 impeccably elegant in his dark blue suit, his shirt and tie perfect and natural, and his impish, bird-like face framed by a crown of frizzy grey hair. Unfortunately I still did not speak enough French to follow the lively conversation which ensued, and had to make do with the running translation which Yves gave me in our common language, Spanish. When Cocteau heard that we were sleeping in the ruins of the Moorish castle, he vehemently declared that he hated hotels and wished he could spend the night up on the Gibralfaro with us, "a la belle etoile". A group photo was taken, with Cocteau in the centre, flanked on one side by Yves and the other by me, the false Hemingway, the prissy Virginia looking a bit like Elizabeth Taylor, plus a very serious American bullfighter whose name I never knew; when the photographer fired his flash bulb, Cocteau sprang up into the air and cried joyously, "Jack in the box!". I asked him to dedicate a few lines to my mother on the hotel stationery to send for her birthday the next month, and he sketched one of his famous faun's heads, wreathed with his childlike, whimsical hand-writing, which was a drawing in itself.
There was an interval of a week or so before the bullfight fair of Bilbao, with the whole of Spain in the middle. The magic combination of elements, like Lorca's "living coin", would never occur again: extreme youth, thirst for adventure and enough time and money to wander at will, in a country which in many ways was still the "old Spain" of Goya and Lorca, where you still often had the feeling that you were discovering things for the first time - and sometimes actually were! Travelling through Spain, in those days, was not only a trip in the geographical sense, but a journey into the past.
I regret to say that I remember nothing of my first visit to the Alhambra, for the simple reason that I have visited it so often since then. From Granada, we went to the village recommended by my friend Pepe Avila. Due to the almost total absence of traffic off the main roads, we took the train to El Tocon on the plain, at the foot of the montes or hills, where a bus was waiting which carried us, along with a small group of wrinkled men dressed in grey and wrinkled women dressed, almost all of them, in black, up to the village.
When you approach Montefrio from El Tocon you get the most surprising view of all. Since the village is sunk in a basin among the hills, but the church-castle perched high up on the great spur of rock which rises above it, the first thing one sees is the belltower; a few dizzying curves later and the magnificent construction emerges triumphantly from below, like a terra cotta man-of-war sailing over an undulating sea of olive groves. Little by little, at the foot of the spur, the white houses of the village come into view, gleaming between two round, ochre hills like a necklace of pearls sunk in a woman's bosom...
I can clearly remember the old man who had been sent to fetch us at the bus stop in front of the big, round church. With his beret, waistcoat, cheery toothless smile and cigarette butt stuck to his upper lip, he resembled a character in one of the greatest classics of Spanish cinema, "Bienvenido Mister Marshall". I can also remember how crowds of women and children gathered in front of us in the street to stare, since they had never seen a foreigner before, so that Tio Paco had to make way for us to pass.
He took us straight to the local Casino, where the "flamenco boys" - the fabulous butcher Manuel Avila, the baker Cristobal Moya (who delivered his bread to the farms with a mule), the two gypsy brothers Melchor and Jose and the barber, Rafael, who played the guitar - were waiting around a table loaded with glasses of wine (only women drank beer then) and dishes of pipirranas (a juicy tomato salad) and mollejas (chunks of sheep entrails fried in oil and garlic). Three or four hours later we were taken, drunk with wine, heat and excitement, to Pepe's house, which he had instructed to be made ready for us, and where we fell asleep in front of a noisy electric fan. As Pablo Cassals said, "Music is not just music" - it is emotion transformed into sound, and when someone sings for you, it's not the same as when he sings for money.
---
[Stories Menu][Next Chapter]