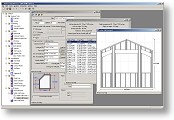 MasterCarpenter 2.0 provides solutions to difficult, on the job layout and design problems that occur frequently in the construction and carpentry related fields.
MasterCarpenter 2.0 effectively empowers one to easily complete jobs that otherwise would best be left to experts. The tools that make up MasterCarpenter include surveying, trim, wall framing, stairs and general spacing.

Renaissance Image Explorer 3.0 is an easy-to-use yet powerful professional multi-user digital image database. Renaissance Image Explorer 3.0 is a true database application that uses ODBC which allows you to store your images in any DBMS including Access, Oracle, Sybase, Informix, SQL Server, and many more. Image Explorer features include web page generation, batch processing, image editing, slide shows, drag/drop, and more.