Pa's Life-sketch
---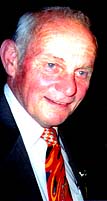 John Wells Hanley -- I'm going to refer to him as 'Pa', short for Grandpa, because that is how we called him -- was born on May 7th, 1928 in Marlette Michigan which is smack dab in the middle of 'The Thumb of Michigan'. His family had lived in Marlette since the 1890's and Pa's family stayed in the East until 1950 when they were lured out West by Uncle Beat, excellent weather, and growing opportunity here in California. 70 or so years later, Pa returned to his childhood home for a visit. Things had changed! But he had his memories . . .
There's a song by the singer/song-writer James Taylor that I like called 'Copperline'. It's about a person just such as Pa who goes back to his childhood town, the town of 'Copperline', and all the memories that come flooding back. Parts of the lyrics go like this:
"I tried to go back as if I could, all-spec house and plywood
Tore up and tore up good, down on Copperline
It doesn't come as a surprise to me, it doesn't touch my memory . . ."
. . . I'm sure that was much as Pa experienced. Lots of changes, much of what was there gone, but just enough left to bring back the memories . . . they hadn't been touched.
He was known as 'Little Jack' back then. He spoke of his earliest memories. Of New Jersey; of Ohio; of a wooded front porch of seven steps and underneath, a wooden lattice, that was his secret hideaway . . .
In those days, his grandmother Hanley owned a cottage on the shores of Lake Huron at Port Sanilac. They would travel on Memorial day to open up the cottage for the season. At that early time of year the water of the lake was freezing . . . but that didn't matter to Pa, he swam anyway as all the kids did. Forth of July would bring warmer weather and warmer water and life on the lake was good. When not actually -in- the lake they would play cards and Badminton in the yard, and in the long evenings, walk with their friends to Plate's Drug Store for sodas. There wasn't much there then . . . a drug store, a grocery store, a gas station, a hardware store . . . and one barber shop . . . but it was enough.
Pa's grandfather was a sort of local celebrity there because he was rumored to have made a hole-in-one on the ninth hole of the local nine-hole golf course.
There were beautiful yachts there too. Pa's friend's family had one moored at the dock. Pa said the one afternoon they had returned from a day's outing on the yacht and in attempting to tie up at the dock, Pa fell into the water. His mother naturally panicked. But Pa was a good swimmer . . . but he did note that she yelled 'Jack! Jack!' so loud that even 70 years later and thousands of miles away he thought, at times, that he could still hear her. ;-)
Those two interests -- golf and boating followed Pa throughout his life. He loved golfing, loved the friendship and camaraderie it could bring. He golfed often with SIRS -- the Seniors in Retirement organization. He golfed Hawaii -- what could be better? ;-)
He loved boating and the water, but strangely, not the beach . . . the sand wasn't his cup of tea. He and grandma owned two boats --- the motor boat 'TRANQUILLO' and later, in 1980, they became the proud owners of 'the Pacific Queen', a large, all wood double ender in the delta. They spent a lot of time with that boat, painting, sanding, varnishing . . . 95% work and 5% fun Grandma said. But it was an adventure.
Pa and Grandma were 2nd cousins. What's more, Grandma's grandfather and Pa's grandfather were partners in an egg business back in Marlette. She and Pa were too young to even talk back then (a toddler and an infant) but Grandma's little wave when they moved to California was, according to a family joke, directed toward Pa. Because Pa and Grandma met up again years later in California where they fell in love and were married on March 11, 1952 at Saratoga. Thus vexing future generations of genealogists because the Hanley name proceeds up both sides of the tree from Barb and Cathy ;-) It was a quick honeymoon because Pa was just out of Basic Training at Fort Ord for 3 or 4 days for the wedding and afterwards they moved onto the Fort where Pa entered leadership training. He finished in May of '52 then they spent the next 6 months at Fort Riley Kansas in OCS (officer candidate school). Then a 6 month's stint at Fort Lee, Virginia where Pa entered Quarter master's school (June '53). Those were the scary days of the Korean war, many men were sent there, but Pa and Grandma were lucky and Pa was transferred instead to Germany --- to Darmstadt. It was a 9 month tour of duty and when he and grandma returned to help close down the Army base at Pittsburgh California, grandma was 7 months pregnant with Barb. She was born in the army hospital at Pittsburgh were she and grandma were the hospitals only patients.
Then is was out of the army and into a tiny two-bedroom house in San Jose. 2 years later they bought the house on Kirkwood Drive and then Cathy was born a year later. After 8 years on Kirkwood, they moved to the house on Olive Branch Lane.
All these moves, twists and turns, are chronologically correct but they don't tell you as much about Pa, so I'll leave that mode to tell you more about Pa, the man.
Pa was an athlete. Track & Field was his sport -- running his specialty His high school was a fine Military Academy -- Culver Military Academy in Culver Indiana. And while there he set a new school record for the 440 -- 51.2 seconds.
He was a scholar. He attended Brown University, majoring in economics. He loved politics, and he loved following the market -- investing. He would spend sometimes 2 or 3 hours a day at the library perusing journals, newspapers, magazines, whatever he resource he could find to feed his passion for politics and business. Stocks and investing were exciting to him. And the love of them drew him into the computer world -- the internet -- which perhaps was confusing to him at times but an important tool to him following his passion.
He was a creature of habit. But then again aren't we all. An example: for the last 15 years he had eaten breakfast at the Blossom Hill Mcdonalds, and in that long association had many friends there. Then he'd 'putter around' the house a bit, get in his 'Tuna-boat cadillac', drive to the Safeway, buy one cookie, and come home and eat it. That was breakfast and a snack.
A job at the Title company led to a career in Real Estate and he was a Realtor for many years. But it didn't end there. He loved beautiful landscaping and growing things and so he left real estate to create a nursery business. He knew a lot about plants, a lot about growing them, about buying and selling them --- he knew their many names all in Latin which confused some of us but delighted him. I know that Jon and probably Melissa can remember riding with Pa over to Santa Cruz and all the surrounding areas loading and delivering plants in Pa's large, green truck -- I think it was on its 3rd engine. Those were pretty exciting days.
Pa love seafood but hated broccoli -- but I think he disliked Bill Clinton even more ;-) Pa was a conservative, a dyed through-and-through Republican. He worked at the Republican Headquarters trying to elect 'any and every Republican'.
A person's bookshelves tell much. Pa's are filled with real estate, boating, and nursery related tomes. But, here and there, other interests show through --- particularly American History and the history of World-War II.
He was an avid '49er fan. And recently, amazingly enough, had come under the spell of that unique craze: professional wrestling. We do not know who is favorite wrestler was, however, and probably are glad we don't.
He liked his 'Tuna boat' cadillac that faithfully carried him to McDonald's every day --- what more could you ask of a car? ;-)
Pa like Rush Limbaugh and especially his ties. Desperate to buy one of those ties, Pa called and drove all over San Jose and surrounding areas in a focused tie hunt. He finally cornered his quarry in far away Monterey. The successful 'tie hunter' proudly wore his tie on many occasions and endured many jokes on same from us.
Pa and Grandma loved to travel. Japan, Taiwan, Hong Kong, Singapore, Bali, Thailand, Australia, New Zealand, Fiji --- they did them all. Alaska was great adventure for Pa, as was Hawaii where he could golf and deep sea fish back-to-back (one trip catching a 123 pound Marlin)
Of course, when we -- the children and grandchildren, Pa, and Grandma -- went on trips together we had to stay a little closer to home. But we have fond memories of Durango, Silverton, Mesa Verde, and Yellowstone.
Pa liked Lake Powell and we were lucky enough to take him there just this past July. His health was in decline, but he hung in there on the long boat-ride to Rainbow bridge.
Pa died the night of August 7th. He didn't go in for that heart operation because he felt his life was over or that it would end. No, he went because he loved life, wanted more of it, felt he had more to contribute, and wanted to spend more time with all of us.
But it was not to be.
Pull your hand out of a bucket of water. What happens? The water ripples, swirls a little, and soon settles back so that there is no evidence that a hand was ever there in the first place. When a person dies, it is much the same to the greater world -- life goes on pretty much as it did before. The sun comes up, the planets spin in their orbits, the news crackles at 6 and 10, traffic snarls on the free-ways, generations come and go.
But given all that, just as in that James Taylor song, 'that doesn't touch our memories'.
And we, here, we'll treasure and cherish those, while missing him greatly, until some bright, future morn' when we can once again greet him and fill our embrace with him.
---
The images, articles, and concepts of this page are copyrighted by P.S. Neeley -- copyright 1999