---
Why is this web page important?
Well it probably isn't except to me. I have a web page that showcases my shareware games,
The P.S. Neeley Shareware page

but I needed someplace to put things of a more personal nature. I hope you will find the things I publish here worthwhile. Welcome!
---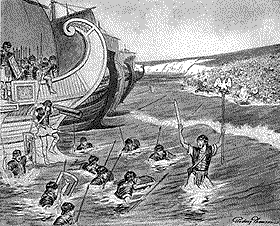 Question: What could this picture of Roman soldiers wading onto the shores of ancient Britain to fight in the surf with the fierce Celts possibly have anything to do with implementing modern, complex manufacturing systems?
Answer: Read the 'Speeches and Communiqués of MRP Man' above to find out.

The images, articles, and concepts of this page are copyrighted by P.S. Neeley -- copyright 1999