From our Family to you . . .
---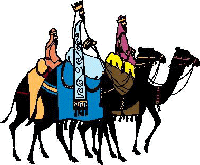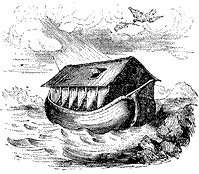 In the ancient Sumerian account of Noah and the Great Flood, God destroys mankind not because of their exceeding wickedness, but because of their incessant noise (Really!). If so friends, we stand in mortal danger. I hear the words ring in Heavenly council, "Go thou Michael, Hasten to Earth, to that Neeley household, and say unto them: 'Be thou Quiet! Peace! You teenagers, thou dost not know everything, Nay closer to nothing, for thy incessant chatter doth prove it. And you little kids, canst thou not play quietly? And why?, Oh why!?, must the steady sounds of Nintendo reach to the heavens . . . the loud music, the raucous laughter. Why? There can be no Peace in Heaven -- let alone Earth-- because of thy noise! . . ." Well, that's how I imagine it anyway. Yes, we are a noisy lot, but no wonder -- we are still growing, learning.
Little James's eyes show excitement through his new glasses as he waits for Christmas -- and prays for 'Bwain Worp" ('Brain Warp' -- a 'Simon Says' sort of toy). Kindergarten may never be the same afterward. He still likes to go everywhere with me -- my little shadow -- but, sadly, that won't last forever.
'The Trickster' Nick is growing taller, taller -- and reads like a 'fish in water', and I worry a little, at least, that my bedtime stories may soon fall obsolete. He plays with his hamster 'Hammy' and plots his next practical joke. By the way, Hammy has escaped more times than Steve McQueen in 'The Great Escape', and I wonder if a more appropriate name might have been Houdini ;-)
Both Nick and James entertain me with magic tricks and puppet shows and Oh how I wish I could preserve such moments in a jar to be opened on some future, lonely Christmas.
Pat, kiddingly known by his siblings as 'Gansta Pat' because of his low riding pants, takes Junior High in stride. I gave him a ride to his first dance this week -- Dangerous curves ahead! ;-) He's getting tall too! And Smarter! And more independent -- more teenager like . . . Wait a minute, we're in trouble! Help! Help! S A V E me Mr. Wizard!
Christie works and plows through High School, grasps at independence, and looks for a Job -- how practical ;-) Hang in the Christie -- growing up isn't easy. Come to think of it, growing older isn't either.
Melissa attends College, still works at Garts Super Sports Store, and struggles with that grand question of the universe -- 'What should I Major in!?' She and Brodie plan to marry later next year. Gosh, where did the time fly to my daughter?
Jon works -- works hard -- keeping homes and businesses warm in the winter, and cool in the summer, with his mastery of 'Heating and Air-conditioning' magic. He's bailed us out already several times at home. Now all we need is a doctor, a dentist, and a psychologist (for me ;-) in the family and we'll be fairly self sufficient. He and Misty will be married in early April. Yes APRIL!
As you can see, this is going to be a really busy year. Our family is growing smaller, and larger, at the same time -- strange that that 'empty nest' may not be so empty at all.
Barb, the beloved 'Bunny Battenburg', tries to hold this menagerie together. The coming year will be hectic, with two weddings, and all the challenges that our family can throw at her. She still teaches tole painting, sewing lessons for children, and leads a rag-tag den of cub scouts as they attempt, seemingly, to destroy the world as we know it.
Me? Well I still work at Thiokol, traveling 30 miles into the western Desert, in an ever older mechanical steed, helping to make information systems better and more efficient -- which then helps make better rocket motors -- which then guard our nation's borders and fling astronauts and satellites into space -- which then improves lives here on earth and preserves hope for future generations. It's all supposed to be connected like that -- I hope ;-)
Total body count: Me, Barb, 6 kids, a future son-in-law, a future daughter-in-law, 2 dogs, 1 cat, 1 snake, 1 turtle, 1 hamst . . .Dang! Where is that flippin' hamster!!

Escaped again?! ;-) . . ., and a 'partridge in a pear tree'. No wonder it's noisy around here.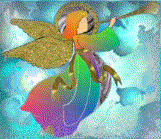 Merry Christmas!! and have a Happy New Year!
---
The images, articles, and concepts of this page are copyrighted by P.S. Neeley -- copyright 1997