From our Family to you . . . 2003
---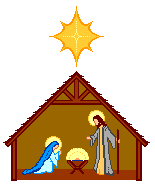 "Publish or perish!" threatens Barb. "We must keep in touch with friends and family," she continues with a hint of incredulity. And so publish I do– but "it's a poor excuse for picking a man's brain every 25th of December". I feel as the poor fairytale maiden who must spin straw into gold overnight, except that I must fit it into this small space to boot. There's never a Rumplestiltskin around when you need one now is there? And what's with that snowman?! Does he have to watch like that? Ok, ok, here goes:
"It was the best of times, it was the worst of times". . . The worst because we are without Grandpa (Steve's father) -- he passed away early in the year—and we miss him greatly. The best because we are still a family, blessed, and safe, and though Grandpa is not with us for a time, we have hopes of meeting him again some bright, future morn.
And we are growing . . . Haylie and Makenzy, our grandchildren, are getting pretty grown-up and are expecting a little brother or sister this coming July. Jon and Misty live—thankfully-- near enough that we get to see them often. I've now watched 'Nemo' for the thousandth time with 'Kenz, and watched 'Kiki's Delivery Service' with Haylie a goodly number too. Misty is doing the Mary Kay thing and Jon works as hard as ever at Ben Lomand Heating and Air Conditioning (BLHAC).
Christie marries Jeff ("The Truck"—refer to last year's letter … you kept it didn't you!J) next April – so both mother and daughter are very busy planning a wedding and searching for that perfect, matching set of salt & pepper shakers (What's up with that?). By the way, Jeff does a perfect imitation of Arnold Schwarzenegger – and this is the perfect year for such a talent tooJ Christie keeps the books at Lil' Audrey's together (a health spa for women) and Jeff is working as a machinist at CNA Precision Machining.
Patrick graduated from Weber High this past year, and will begin his second semester at Weber State University after the Holidays. He did extremely well his first semester (Poly Sci. major) and all by himself (tuition, books, everything) while working pretty much full time, alongside Jon, at BLHAC. As a Poly Sci aficionado, Pat has had a good time with "I could drive my Hummer through it" Arnold right along with Jeff J
Liss and Brod (Melissa and Brodie and Mika 'the beagle') are doing fine . . . both carpooling together to separate jobs in Salt Lake (Melissa at the DMV and Brodie at the Maverick offices). They work hard and are saving for a house (which will likely be closer to Salt Lake than Ogden) but we are glad that for the time being they still live close enough for us to see them often.
Nick and James are into skateboarding … still! They have a rail … that is in constant use, and the new North Ogden skate park is seeing plenty of action from them these days also. One day that board will become a car and that's pretty much all she wrote boys… J One other thing; we, I mean THEY, have a Toad and Tree Frogs. They were so inexpensive at the Pet Store but the cost of crickets . . . it's enough to bankrupt ya . . . "Annual income twenty pounds, annual expenditure nineteen nineteen and six, result happiness. Annual income twenty pounds, annual expenditure twenty pounds ought and six, result misery". J
Barb is into her 3rd year as Young Women's President of our Ward – she spends a lot of time and energy taking care of her girls. This is going to be a busy year for her – wedding and all. We spent some time at the Pioneer Trek seminar representing our Ward in its upcoming trek at Martin's Cove – that will add to the busy year also. Hopefully we can spend some time together like we did this past year at the Cedar City Shakespearean festival (Men in tights – ya gotta love it J Not!) but we do enjoy being together doing something totally 'else' for a change.
I'm still there at ATK Thiokol (". . . skewered through and through with office-pens, and bound hand and foot with red tape"). and this year I've spent not a little time in San Diego working with a vendor there. I've eaten at 'Dead Lobster' (Red Lobster) more times than I can count (a co-worker will eat no place else . . . and hey, I'm not complaining). But, thankfully, most of the trips have been day trips. I still marvel that I can get up, eat breakfast, get on a plane, go to San Diego, meet, eat, meet again, and come home by plane to greet my family that night – all in one day the same distance that took the Pioneers months by handcart to do. Go figure! But anyway, we did take one of those trips driving as a family and as I worked a few days there, the family played at Disneyland (Typical! -- I work; they play J )
This year Utah was dry, dry, dry – no water really in Willard Bay – so the boat never left its dock in our driveway. This about killed Barb (she's the boater in the family). Maybe next year (snow is falling as I write this so cross your fingers!)?
We did take what we hope will become an annual trip to Yellowstone with pretty much all the crew. This was early in the year – second week of May – with the Park just barely open to wheels and prices for accommodations low. It's peaceful and not crowded at all. Lots of animals and you really do get to see bear that time of year. It was a little cold at times but there is something about a geyser basin with light snow falling – beautiful. Then we rushed back a day early with sick little ones to doctor and medicine – just like old times. . . been there, done that . . . Again! J
In ending this missive I will repeat my favorite Dickens quote from last year's newsletter (By the way, all the quotes above are Dickens too – except, of course, the Arnold one):
"Pride is one of the seven deadly sins; but it cannot be the pride of a mother in her children, for that is a compound of two cardinal virtues -- faith and hope."
We do hope and pray that the Holidays will find you safe and well; in good spirits and in good health.
You like good writing? You like good humor? Then don't visit http://www.xmission.com/~psneeley/

Merry Christmas!! and have a Happy New Year!
---
The images, articles, and concepts of this page are copyrighted by P.S. Neeley -- copyright 2003