From our Family to You . . . 2008
---
Sorry. No time to mail hard copies this year . . . so we have opted for an online-only version. I KNOW this saddens many of you who had looked forward to receiving this on hard-to-read, Christmas colored paper with a frilly, Christmassy border of candy canes, snowmen, or whatever, and which border, would be, by the way, taking up fully a third of the page, etc. ;-) But no, you get this crummy online version instead.
. . . but look on the bright side . . . with no 'page limit' or confining borders, the electronic writing surface stretches before me . . . on and on and on and on and (for good measure) on . . . . I could write forever . . . you could be hobbled and hoary-headed, gray before you finish reading this . . . . ;-)
No? What? You're that already?
Nah . . . we'll get right to the point, though.
Jon is really busy with his business – Fremont Heating and Air Conditioning, Inc. So many jobs, so little time . . . and hands to help. Last February he broke his ankle ('saving time' by jumping off a wall onto a slick road . . . ah, those short-cuts . . . never as short as they seem . . . ;-)). One thing is for sure – it's tough to do H&AC work while in a cast, in the snow, and on crutches, and so he had to learn to supervise, bark orders, and sometimes climb a tall ladder in a cast against doctors orders (Yikes!). Misty has a position with the IRS working an evening shift which brings in some extra money and, most importantly, provides health benefits for the 'fam'. Haylie, McKenzy, and Connor are growing up fast . . . involved in dance, tumbling, and school. ConMan (Connor) is a true boy . . . a rough and tumble, out-of-doors kind of guy . . . he isn't happy unless he has a car or truck in either hand and his boots caked with slush, mud, or have . . . well never mind . . . on them ;-)
Melissa continues her position for the State in Recovery Services, and Trevor is still with R.C. Willey (ah . . . you see an advantage of this electronic missive – hyperlinks! ) and will likely deliver a humongous TV or living room set to your door and even inside . . . if only you will order it ;-) Ro (Ronin) is over one year old now – almost a teenager, or 'half-teen' as Haylie would describe it ;-) – and is really into Elmo on Sesame Street. Taking pictures of Ro has led from one thing to another and Lissy's hobby has blossomed into a nascent photography business – Silver Story Photography. See the website at: http://silverstoryphotography.blogspot.com/ Liss and Trev bought Barb's boat – the MJ – and now that Willard Bay promises to be operational this next year will actually have a place to float it without competing with hundreds of maniacal boat jockeys up at Pineview ;-)
Christie made a change for the better and left Little Audrie's Health Spa for a job at the State. The hours are better, as well as the pay, and things just weren't the same after her longtime employer – Joel -- passed away and left Little Audrie's in other hands. Jeff is still working at Quick Turn Precision Machining as a production planner, shop scheduler, and buyer – three full time jobs, if you ask me, in one. Jeff continues to 'show me up' mightily by painting his house, professionally landscaping his yard (by himself), and generally being a handy kind of guy. Well, something for me to shoot for I guess ;-)
When we last left our intrepid explorer – Patrick – he as a PC (Peace Corps) volunteer living in a tin shack, in a poor and very remote village, high up in the Tugen Hills of the Great Rift valley of Kenya (amongst lots of green mambas). But political unrest – riots and killings – closed the Kenyan PC program and Patrick found himself a refugee, of sorts, but safely manning a PC post in Botswana along the Okavango River not far from the Namibian border and the Caprivi Strip. May or June should bring him home with us again, facing grad school at one of eight top schools (note: reminds me of that scene in Indiana Jones (i.e. The Last Crusuade) . . . "We have top men working on it. TOP MEN!" ), one of which will be very lucky to have him (in our opinion ;-)) In the meantime, he has not answered our query about that last post of his where he was in the middle of the Okavango, on a boat, in the pitch of night, surrounded by many numbers of bound, live crocodiles and 'bloody' chicken parts.
P.S. he takes these 'wild' vacations (yes, they accrue vacation time in the Peace Corps). Here is a sample picture (see how much better this electronic newsletter is!? We can do pictures! J )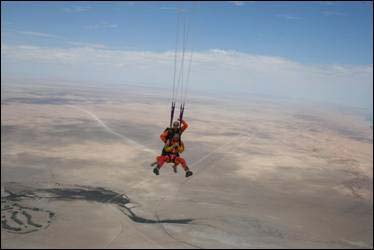 Yes . . . that's Pat . . . over Nambia (with jump instructor). As I quipped in a comment to this blog post, "I assume the reason they have you wear red is so that they can easily locate the body in the trackless wastes of the Namib Desert? ;-)
Nick is just finishing up his first semester at Weber State University in Mechanical Engineering Technology, and funding his education by working with Jon at Fremont Heating & Air on the off-days and summers. As a school project, he and some fellow students made a 'trebuchet' out of gas pipe (readily available if you work in Heating and Air Conditioning ;-)) and some of my cast iron weights (yes, I still 'pump iron') as the counterweight. Reminds me of that scene in the 'Monty Python and the Holy Grail' . . . the flinging cows' scene? Oh, and Nick, your next task: "You must cut down the mightiest tree in the forest ... WITH ... AN HERRING!" Engineer that! ;-)
James is a junior in H.S. – Weber High School, to be exact – and doing very well academically and socially (read: The house seems to be rock'in on the week-ends with many friends downstairs . . . unfortunately, that is where my microscopes and guitar are . . . you see the problem?). He is a talented artist, and has produced some fine works in his Art classes.
Barb is the newly called ____Not officially announced yet_____________, and so is scrambling trying to get her hands around a ____Too big of a clue___________. She is trying to get her dog training business going (Bairbre Click'n Paws Dog Training – see the website here: http://bairbrepaws.com/ ), be a grandma, and be a mother to Nick and James who are still at home, and to all our children (you never stop being a mother). It's hard to get it all in, but she does it anyway.
Me? . . . still working at the rocket plant. People ask me what I do there. Think of me as like a big, big roll of duct tape J (Mom always said I would amount to something ;-) but, sniffle, I wanted to be Velcro . . . sniffle ) . . . I hold things together with stick'em power . . . I implement systems – software systems -- I analyze, troubleshoot, present to 'big wigs', worry about budgets and resources, project lead, and even program at times. Off hours, I read a lot (last five books: The Selfish Gene, Genome, Tale of Two Cities, Freakonomics, Nicholas Nickleby), play my guitar (Celtic, only Celtic), and try to be the best Gospel Doctrine teacher in Sunday school that I can be. I too try to be a good father and grandfather, but admit I can't keep up with Barb J in that arena.
No big trips planned in the future but we are going to try to 'whoop it up' a bit when Pat comes home in June during the one month we'll actually see him before he heads off, east, to grad school.
You like good writing? You like good humor? Then don't visit http://www.xmission.com/~psneeley :-) No, wait . . . you already ARE there. Oh boy, are you in trouble.
Merry Christmas!! And have a Happy New Year!

Merry Christmas!! and have a Happy New Year!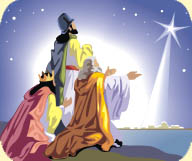 Wise Men Still Seek Him
---
The images, articles, and concepts of this page are copyrighted by P.S. Neeley -- copyright 2008