Porcupine
The third novel by author Meg Tilly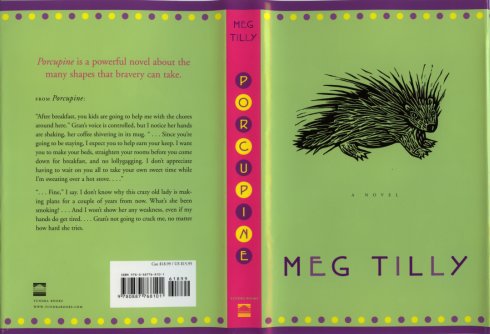 Once again, I am happy and excited to let you know about Meg's third book which she has titled "Porcupine". Unfortunately, I have only JUST received my copy, so I haven't had a chance to read it and provide my own opinions and comments. Stay tuned because I *will* read it and post my commentary soon!

"Porcupine" will be different from her first two novels as this one is written for young adults. I find it interesting that Meg's stories have so far been centered around children and their viewpoints. I think that says something about the type of person she is, what she finds important in her lives - important enough to want to share with the world.

As I've mentioned, I haven't read "Porcupine" myself, so can offer only general information taken from the book flap. Hopefully, it will be enough to hold you over and maybe entice you to get a copy for yourself.

(From the book flap:) "War-torn Afghanistan could not seem farther from Newfoundland, but it is about to change twelve-year-old tomboy Jack Cooper (or Jacqueline, as her mother insists on calling her) forever. When her father is killed in the war, she watches helplessly as her mother crumbles under sorrow and depression. Jack and her younger sister and brother, Tessa and Simon, end up across the country, living on a run-down farm in a small town on the Prairies with a great-grandmother they didn't know existed. Worried that they will be abandoned again if Gran moves into a retirement home, Jack puts on a brave face and encourages Tessa and Simon to take on the challenges of their new life. In the process, she learns that families come in many different forms and that love, trust, and faith can build a home anywhere."


---

Below is a schedule of events and appearances promoting
the release of "Porcupine". For more information, visit
Meg's Official Web Site


---
Sept. 30, 2007 --12:20pm to 12:40pm
The Word on the Street Festival
In the "Canada Writes Tent"
Vancouver, B.C.
(sponsored by the fantabulous Bolen Books!)


Oct. 9-14 2007
Word Fest
Calgary, Alberta
Oct. 18-21 2007
Surrey International Writers Conference
Surrey, B.C.


Oct. 23, 2007
Toronto Public Library - Brookbanks Branch
2pm Young Adult Class Visit Event
210 Brookbanks Drive
Toronto
416-395-5480


Toronto Public Library - Locke Branch
7pm *Adult evening* (this event will focus on Singing Songs and Gemma as well as Porcupine)
3083 Yonge Street
Toronto
416-393-7730


Oct. 24 2007
Toronto Public Library - Parkdale Branch
10am Young Adult Class Visit Event
1303 Queen Street West
Toronto
416-393-7686


Toronto Public Library - North York Central Library
2pm Young Adult Class Visit Event
5120 Yonge Street
Toronto
416-395-5535


Oct. 27, 2007
B.C. Coalition for School Libraries
The CWILL Fall Book Harvest
Vancouver Public Library in the Alice McKay room


Nov. 14, 2007
Hycroft
Vancouver B.C.


Jan. 7th
Bibliophiles book club
Christianne's Lyceum of Literature and Art
Vancouver, B.C.


Feb. 22 2008
Claremont Secondary School
Victoria, B.C.