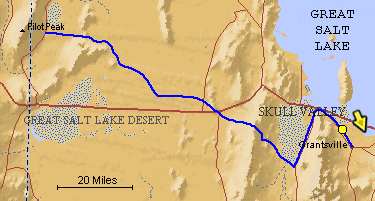 The blue line is the Hastings Trail, the yellow dot is the location
of the camera and the yellow arrow is the camera direction..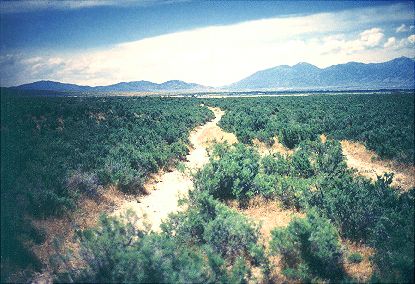 Photograph: Copyright © 1995 Roy D. Tea
Made 1995 Near Grantsville, Utah.
This is a view of the Hastings Trail looking southeast toward Grantsville, Utah, about 45 miles west of Salt Lake City. Grantsville was known in the trails era before Mormon settlement as Twenty Wells or Hastings Wells. This portion of the trail was located by OCTA members in 1995. On the right are the Stansbury Mountains, crossed by the Bryant-Russell pack train led by Hudspeth and on the trail a little ahead of the Donner Party in 1846. Travelers on the Hastings spent as much time as they could here to "recruit" their cattle on the plentiful grass and water available as they prepared for the desert ahead. Preparations often took one, two or even more days.
[ Return to Hastings Cutoff Exhibition ]
[ Return to Gallery ] [ Crossroads Home ]
Photographs may not be used without permission of their copyright owners.
Original content copyright © 1997-2001 by
Utah Crossroads Chapter, Oregon-California Trails Association. All rights reserved.
Site design by Steven L. Berlin
E-mail regarding this site: Utah Crossroads Webmaster
Revised: 10/25/04