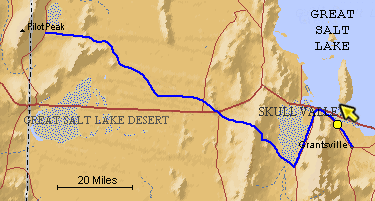 The blue line is the Hastings Trail, the yellow dot is the location
of the camera and the yellow arrow is the camera direction.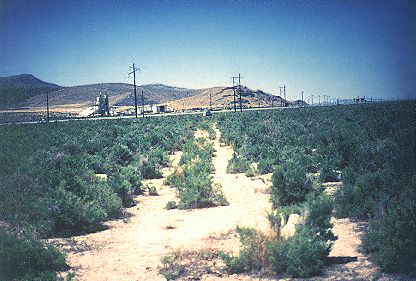 Photograph: Copyright © 1995 Roy D. Tea
Made 1995 Northwest of Grantsville, Utah.
View generally northwest toward Dolomite Point. This picture was made a little farther along than the previous one and looking in the opposite direction. The Hastings Trail worked its way along the valley floor on its way to rounding Timpie Point, a few miles beyond here. Timpie Point is the northernmost extent of the Stansbury Mountains and the place where the road enters Skull Valley. The foothills in this view are the east flank of the Stansburys. Wetlands to the right of this location kept the trail tucked up against the foothills from here until it entered Skull Valley.
[ Return to Hastings Cutoff Exhibition ]
[ Return to Gallery ] [ Crossroads Home ]
Photographs may not be used without permission of their copyright owners.
Original content copyright © 1997-2001 by
Utah Crossroads Chapter, Oregon-California Trails Association. All rights reserved.
Site design by Steven L. Berlin
E-mail regarding this site: Utah Crossroads Webmaster
Revised: 10/25/04