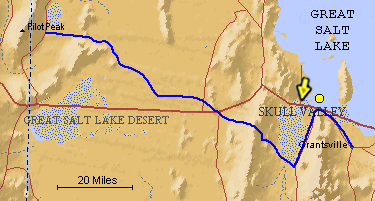 The blue line is the Hastings Trail, the yellow dot is the location
of the camera and the yellow arrow is the camera direction.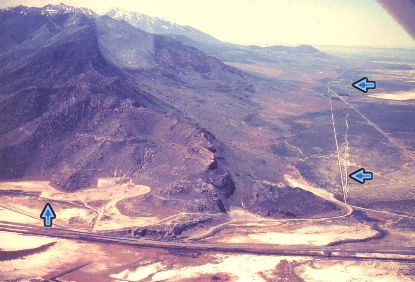 Photograph: Copyright © 1979 Roy D. Tea
Made 5/79, Skull Valley, Utah.
Looking south. Timpie Point, the northernmost extent of the Stansbury Range is at bottom center. Big Springs is at bottom right below the arrow and just right of the dirt road with the sweeping curve. The Hastings Trail is marked by blue arrows. The straight line to its left is the Lincoln Highway. The trail crosses the straight line on the right which is the county road to Dugway Proving Grounds. Timpie Point is where Jedediah Smith came in 1827 after crossing Nevada from California. As it rounds the point, the trail is found hugging the mountain and there are several sections of nice ruts (arrow at left). OCTA Carsonite markers stand in several places where the trail can be positively located here.
The narrow strip of dry land between Timpie Point and Great Salt Lake has been a transportation corridor for a long time and today, Interstate-80, the Western Pacific Railroad, numerous powerlines, pipelines and cables as well as the remnants of the Lincoln Highway and the Hastings Cutoff all share this strategic geography.
[ Return to Hastings Cutoff Exhibition ]
[ Return to Gallery ] [ Crossroads Home ]
Photographs may not be used without permission of their copyright owners.
Original content copyright © 1997-2001 by
Utah Crossroads Chapter, Oregon-California Trails Association. All rights reserved.
Site design by Steven L. Berlin
E-mail regarding this site: Utah Crossroads Webmaster
Revised: 10/25/04