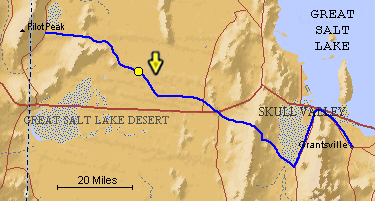 The blue line is the Hastings Trail, the yellow dot is the location
of the camera and the yellow arrow is the camera direction.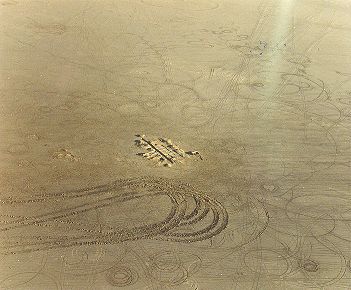 Photograph: Copyright © 1986 Roy D. Tea
Made 1986, Great Salt Desert, Utah.
Prior to portions of the trail being flooded by the Great Salt Lake pumping project of the late 1980s archeological investigations were undertaken by the Utah State Historical Society to explore the remains of wagons and other artifacts left on the desert. The study was called the Silver Island Expedition. One of several, this is the major study site. Results were published in: Bruce R. Hawkins and David B. Madsen, Excavation of the Donner-Reed Wagons: Historic Archeology along the Hastings Cutoff, Salt Lake City: University of Utah Press, 1990.
[ Return to Hastings Cutoff Exhibition ]
[ Return to Gallery ] [ Crossroads Home ]
Photographs may not be used without permission of their copyright owners.
Original content copyright © 1997-2001 by
Utah Crossroads Chapter, Oregon-California Trails Association. All rights reserved.
Site design by Steven L. Berlin
E-mail regarding this site: Utah Crossroads Webmaster
Revised: 10/25/04