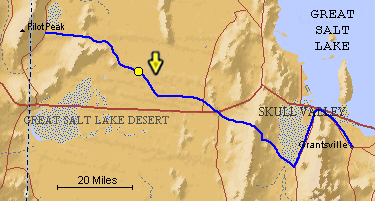 The blue line is the Hastings Trail, the yellow dot is the location
of the camera and the yellow arrow is the camera direction.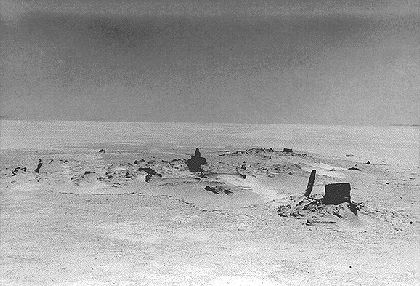 Used by permission, Utah State Historical Society, all rights reserved
Photograph: Charles Kelly
Made 1929, Great Salt Desert, Utah.
This picture of the remains of an abandoned wagon was made by Charles Kelly, early trail enthusiast and self-taught historian and researcher. The black object on the right is the hub from an unusually large wagon wheel and Kelly took this to be James Reed's oversized wagon. The picture appears as Figure 11 on page xxvi of the 1996 edition of Kelly's 1930 book (Salt Desert Trails, Peter H. DeLafosse ed. Salt Lake City: 1996).
[ Return to Hastings Cutoff Exhibition ]
[ Return to Gallery ] [ Crossroads Home ]
Photographs may not be used without permission of their copyright owners.
Original content copyright © 1997-2001 by
Utah Crossroads Chapter, Oregon-California Trails Association. All rights reserved.
Site design by Steven L. Berlin
E-mail regarding this site: Utah Crossroads Webmaster
Revised: 10/25/04