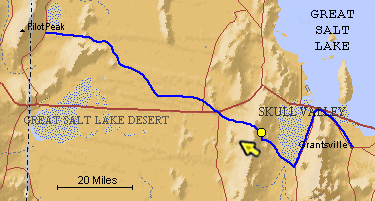 The blue line is the Hastings Trail, the yellow dot is the location
of the camera and the yellow arrow is the camera direction.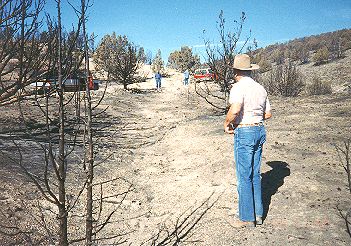 Photograph: Copyright © 1995 Roy D. Tea
Made 11/22/95, Skull Valley, Utah.
Al Mulder standing on edge of the Hastings Trail leading to a hogback ridge in Hastings Canyon. At the far end of the swale, Oscar Olson is standing on the trail where it curves to the left to ascend the hogback. Vern Gorzitze is at the rear of the red 4X4. It was necessary for the pioneers to take the hogback ridge to Hastings Pass instead of staying in the canyon bottom because the end of the canyon is too steep for wagons. This swale was revealed after a summer fire cleared the ground of vegetation.
[ Return to Hastings Cutoff Exhibition ]
[ Return to Gallery ] [ Crossroads Home ]
Photographs may not be used without permission of their copyright owners.
Original content copyright © 1997-2001 by
Utah Crossroads Chapter, Oregon-California Trails Association. All rights reserved.
Site design by Steven L. Berlin
E-mail regarding this site: Utah Crossroads Webmaster
Revised: 10/25/04