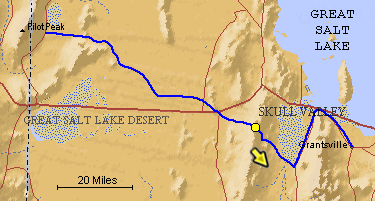 The blue line is the Hastings Trail, the yellow dot is the location
of the camera and the yellow arrow is the camera direction.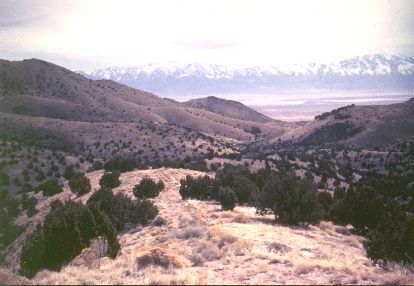 Photograph: Copyright © 1995 Roy D. Tea
Made 1995, Cedar Mountains, Utah.
This is the view southeast from Hastings Pass in the Cedar Mountains which furnish the western margin of Skull Valley. Across the valley is the Stansbury Range with Deseret Peak on the right. The trail is along a hogback ridge and can be seen in the lower center of the photograph.
Lansford W. Hastings first traveled the road that bears his name in the summer of 1846 and was eastbound. There is some controversy about whether he crossed the Cedar Mountains on that trip at this place or a few miles south. Stansbury, in the area in 1849, thought it was the latter.
[ Return to Hastings Cutoff Exhibition ]
[ Return to Gallery ] [ Crossroads Home ]
Photographs may not be used without permission of their copyright owners.
Original content copyright © 1997-2001 by
Utah Crossroads Chapter, Oregon-California Trails Association. All rights reserved.
Site design by Steven L. Berlin
E-mail regarding this site: Utah Crossroads Webmaster
Revised: 10/25/04