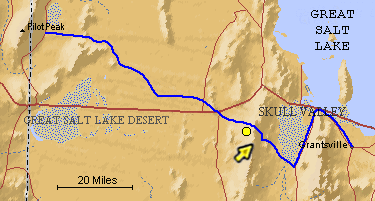 The blue line is the Hastings Trail, the yellow dot is the location
of the camera and the yellow arrow is the camera direction.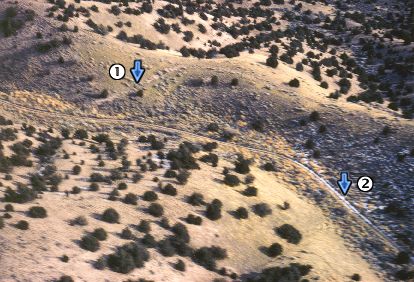 Photograph: Copyright © 1972 Roy D. Tea
Made 11/29/72, Cedar Mountains, Utah.
View looking northeast. The diagonal ridge in the upper center of the photograph is the summit of Hastings Pass in the Cedar Mountains. The trail comes up a hogback ridge out of the picture to the right. It then follows the ridge north a short distance where it descends a dugway (1). Wagons could easily tip over when sidleing - traversing a steep hill. A dugway is a cut on the side of the hill to decrease the wagons' tilt. Dugways cut as deep ditches could catch the uphill wheels and eliminate sideways slippage. This dugway drops down from the ridge to a mining road (2) which was made subsequent to the trails era and the trail continues off the photograph to the left..
[ Return to Hastings Cutoff Exhibition ]
[ Return to Gallery ] [ Crossroads Home ]
Photographs may not be used without permission of their copyright owners.
Original content copyright © 1997-2001 by
Utah Crossroads Chapter, Oregon-California Trails Association. All rights reserved.
Site design by Steven L. Berlin
E-mail regarding this site: Utah Crossroads Webmaster
Revised: 10/25/04