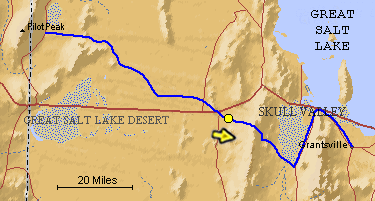 The blue line is the Hastings Trail, the yellow dot is the location
of the camera and the yellow arrow is the camera direction.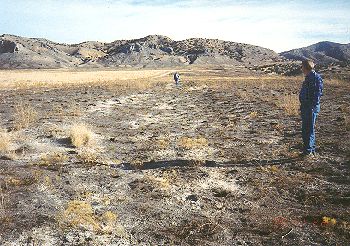 Photograph: Copyright © 1995 Roy D. Tea
Made 11/22/95, Cedar Mountains, Utah.
Looking east. In this view, taken on the west side of the Cedar Mountains after a summer fire has burned away the sparse desert vegetation, a shallow swale of the old trail can be seen. Oscar Olson is in the foreground and Vern Gorziztze, 1998 president of Utah Crossroads is in the distance.
[ Return to Hastings Cutoff Exhibition ]
[ Return to Gallery ] [ Crossroads Home ]
Photographs may not be used without permission of their copyright owners.
Original content copyright © 1997-2001 by
Utah Crossroads Chapter, Oregon-California Trails Association. All rights reserved.
Site design by Steven L. Berlin
E-mail regarding this site: Utah Crossroads Webmaster
Revised: 10/25/04