Mr. Pinball Tip:
Electromechanical pinballs with weak AC flippers likely have wear or mechanical problems. If you fix all the problems and the flippers are still weak and/or noisy you may wish to convert them to DC. DC coils run much quieter and are stronger. However, some game components (plastics, drop targets, etc.) will be damaged by coils that are too strong. Be careful when trying this modification.

Buy a bridge rectifier rated at 50V or more for each coil. If your flipper circuit runs more than 50V you will need to use a higher rated rectifier. You will also need a short length (5" or so) of wire. Use the following diagram to make all your connections. Note that the coil has three terminals and they are NOT alike. Notice particularly which terminal has the light (thin) wire connection.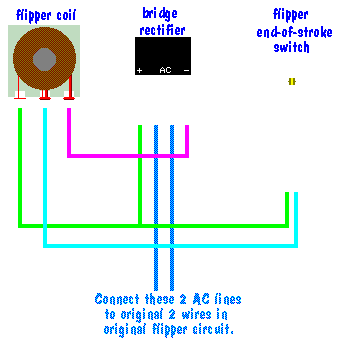 ---
Tip Archive
---
New tips are welcome and encouraged. Tips will be credited to those who contribute. If you would like to submit a tip click here.
---
---
For more information you may contact us by email, or by email form.
© Copyright Mr. Pinball 2021. All Rights Reserved.