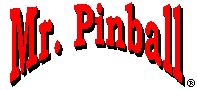 Mr. Pinball restores, buys, sells, trades, and repairs pinball machines. Although we gladly deal with all pinball machines, our specialty is electro-mechanical (pre-1978) pinball machines.
---
Pinball Price Guide
We publish and sell the famous Mr. Pinball Pinball List & Price Guide. The 2015 Edition is now available!
---
Mr. Pinball Classifieds
We run the largest and oldest pinball classified pages on the Internet. This is where to go to list machines or parts, wanted or for sale. Ads on these pages are absolutely FREE to everyone. Today there are: 862 machines for sale, 273 machines wanted, 174 parts for sale ads, and 324 parts wanted ads for a total of 1633 ads.
---
---
---
This is how you can find someone in your local area to help you fix, or find a pinball machine. Or, if you are a collector, here is where to sign up to join with other collectors. This is all free!
---
Pinball Machine Photos
If you would like to view photos of pinball machines, see the Mr. Pinball Photo Gallery. We now have photos of over 400 machines!
---
rec.games.pinball FAQ (Frequently Asked Questions)
We are the host site for the rec.games.pinball FAQ.
---
Pinball Auction Results
We have auction results (prices) for over 14,000 pinball machine auction sales since 1994.
---
Upcoming Events
March 18, 2016-March 20, 2014: Texas Pinball Festival 2016 at Embassy Suites and Convention Center in Frisco, Texas. This will be in a huge 40,000 square foot game room. They want to top what they did last year and fill the space with more than 400 pinball machines, classic video games and other game room goodies set up on free play for everyone to enjoy the entire weekend. Vendors, collectors and hobbyists from the surrounding area and beyond will be bringing parts, supplies, game room memorabilia, pinballs, slot machines, jukeboxes and video games for sale. You can bring your own machines to display. Lucky winners will take home door prizes and someone will take home a new pinball machine from our annual raffle.. For more info visit the website, send email, call 214-471-5777, or write to P.O. Box 526 Midlothian, TX 76065.

March 31-April 2, 2016: Ohio Pinball & Arcade Show at 48 E Bath Rd in Cuyahoga Falls, Ohio. 12th annual show with over 150 games on free play. Vendors with parts, mods and games for sale. Play in IFPA sanctioned tournaments for all ages. There will also be an auction on Saturday morning starting at 10am, preview at 8am. For more info visit the website, send email, call 330-687-9341, or write to 48 E Bath Rd Cuyahoga Falls OH 44223.

May 13-15, 2016: Ann Arbor Michigan Pinball Showcase at 8891 Spicer Raod in Brighton, Michigan. The Ann Arbor Pinball Museum just north of Ann Arbor, Michigan will have their 2016 Pinball Showcase Friday May 13th to Sunday May 15th. The museum has 300 machines on site (free play) ranging from 1950s 'woodrails' to the latest games from Stern Pinball. Every decade, manufacturer and game type is represented at the museum. There are many rare and hard to find games set up and ready to play. All machines are on free play, so one entrance ticket allows unlimited play for the day. There's something for every pinball fan here. For more info visit the website.

May 13-15, 2016: Pin-A-Go-Go Pinball Show at Dixon Fairgrounds in Dixon, California. This show is in its 20th year. 100+ pinball machines on FREE PLAY. Vendors with parts, mods and gadgets, silent auction, swap meet, raffle, machine sales, good eats, pinball celebrities, pinball school, pinball clinic, pinball fun. On-site RV hook-ups. All proceeds benefit local youth charities. For more info visit the website.

June 10-12, 2016: Rocky Mtn Pinball Showdown at Denver Marriott South, 10345 Park Meadows Drive in Lone Tree (Denver), Colorado. Over 150 pinball, retro and arcade video games to play for free. Play for fun or in tournaments for all ages and skill levels. See the latest pinball and classic arcade movies and attend pinchat seminars hosted by big names and local favorites in the pinball and classic arcade community. Will have exhibitors buying, selling, and repairing pinball machines, classic arcade games and parts. Also will have entire span of console gaming.. For more info visit the website, send email, or call 303-938-9889.

July 7-9, 2016: Pintastic New England at Sturbridge Host Hotel in Sturbridge, Massachusetts. Over 200 games on free play tournaments seminars pinball restoration contest indoor vendor spaces outdoor flea market entertainment for kids raffle and door prizes.. For more info visit the website.

July 16-17, 2016: California Extreme, at the Hyatt Regency in Santa Clara, California. This will be the 21st year of the show. This is a video game and pinball show. All games on freeplay. Buy/Sell/Swap/Compete. Also, there will be a lineup of speakers and special activities. For more information send email, or visit the website.

September 23-25, 2016: Vancouver Flipout Pinball Expo 2016 at Holiday Inn Downtown in Vancouver, British Columbia, Canada. Formerly known as Fraser Valley Flipout. Over 100 pinball machines, speakers, vendors and IFPA pinball tournaments for all ages & skill levels. Don't miss this 'eh?. For more info visit the website, send email, call 1-855-366-4876, or write to Vancouver FlipOut 2016, 33237 1st Ave., Mission, BC V2V 1G7, CANADA.


If your pinball event is not listed here please let us know!
---
For more information you may contact us by email, or by email form.
© Copyright Mr. Pinball 2015. All Rights Reserved.