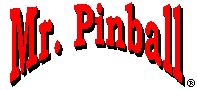 Mr. Pinball restores, buys, sells, trades, and repairs pinball machines. Although we gladly deal with all pinball machines, our specialty is electro-mechanical (pre-1978) pinball machines.
---
Pinball Price Guide
We publish and sell the famous Mr. Pinball Pinball List & Price Guide. The 2014 Edition is now shipping!
---
Mr. Pinball Classifieds
We run the largest and oldest pinball classified pages on the Internet. This is where to go to list machines or parts, wanted or for sale. Ads on these pages are absolutely FREE to everyone. Today there are: 1180 machines for sale, 401 machines wanted, 210 parts for sale ads, and 391 parts wanted ads for a total of 2182 ads.
---
---
---
This is how you can find someone in your local area to help you fix, or find a pinball machine. Or, if you are a collector, here is where to sign up to join with other collectors. This is all free!
---
Pinball Machine Photos
If you would like to view photos of pinball machines, see the Mr. Pinball Photo Gallery. We now have photos of over 400 machines!
---
rec.games.pinball FAQ (Frequently Asked Questions)
We are the host site for the rec.games.pinball FAQ.
---
Pinball Auction Results
We have auction results (prices) for over 14,000 pinball machine auction sales since 1994.
---
Upcoming Events
July 12-13, 2014: California Extreme, at the Hyatt Regency in Santa Clara, California. This will be the 18th year of the show. This is a video game and pinball show. All games on freeplay. Buy/Sell/Swap/Compete. Also, there will be a lineup of speakers and special activities. For more information send email, or visit the website.

July 24-26, 2014: Pinbowl IV Match Play Pinball Event 2014 at Richfield Bowl in Flint, Michigan. Pinbowl IV is switching to a match play format: Thursday July 24th (pingolf/practice), Friday July 25 (match play), Saturday July 26 (match play) location: Richfield Bowl 5340 Richfield Rd, Flint, MI 48506. Full details soon including: when registration opens and payment due, you can however message me in the meantime to be put on the list. The are limiting this to 100 players max. Match play is $60 per person and this all goes into the payout purse. (All entry fees are paid out 100% to the winners). Everyone qualifies for the playoffs so you don't have to be an expert player. Beginners to average players are welcome as well. Playoffs will be split into "a" division and "b" division with "good" players restricted to "a" division playoffs no matter how they play in qualifying. This way, if you are not a good player, you won't be forced into playing in "a" division playoffs unless you do so well in qualifying you make the "a" cut (top half of players). Everyone will play together in groups of 4 on Friday and Saturday. Each group will play 4 machines (2 older, 2 newer), then we re-seed for each round (just as pinball leagues do). 8 rounds total. Playoffs will follow after round 8 on Saturday. For more info visit the website, or send email.

September 26-28, 2014: Fraser Valley Flipout at CAstle Fun Park - 36165 North Parallel Road in Abbotsford, British Columbia, Canada. This is the largest pinball tournament in canada. Now over $25,000 in cool prizes, cash & bragging rights. Grand prize NIB pinball machine. All skill levels welcome. For more info visit the website, send email, call 1-855-366-4876, or write to FVFO 2014, PO Box 3333, Mission, BC V2V 4J5 Canada.

October 10-11, 2014: The White Rose Gameroom Show at The York Expo Center (Fairgrounds) in York, Pennsylvania. Pinball machines, video games, jukeboxes and other arcade games for play, sale and trade. Free admission flea market area. Lots of door prizes and tournaments. Many vendors will be selling supplies, items for your gameroom and much more. For more info visit the website, send email, or call 717-845-8667.

October 15-19, 2014: Pinball Expo 2014 at the Westin Chicago North Shore, 601 N. Milwaukee Ave, Wheeling (Chicago), Illinois. This is the big show every year and this will be the 30th annual show. This show puts emphasis on the collector and enthusiast and usually includes a factory tour, auction, designer/artist/author autograph session, seminars, parts, machines, and other pinball-related merchandise. This show has major manufacturer support. For more information write Pinball EXPO 2014, 1085 Eagle Trace Rd., Warren, OH 44484, call 1-800-323-FLIP, or visit the web site.



If your pinball event is not listed here please let us know!
---
For more information you may contact us by email, or by email form.
© Copyright Mr. Pinball 2014. All Rights Reserved.