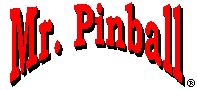 Mr. Pinball restores, buys, sells, trades, and repairs pinball machines. Although we gladly deal with all pinball machines, our specialty is electro-mechanical (pre-1978) pinball machines.
---
Pinball Price Guide
We publish and sell the famous Mr. Pinball Pinball List & Price Guide. The 2014 Edition is now shipping!
---
Mr. Pinball Classifieds
We run the largest and oldest pinball classified pages on the Internet. This is where to go to list machines or parts, wanted or for sale. Ads on these pages are absolutely FREE to everyone. Today there are: 1145 machines for sale, 363 machines wanted, 196 parts for sale ads, and 349 parts wanted ads for a total of 2053 ads.
---
---
---
This is how you can find someone in your local area to help you fix, or find a pinball machine. Or, if you are a collector, here is where to sign up to join with other collectors. This is all free!
---
Pinball Machine Photos
If you would like to view photos of pinball machines, see the Mr. Pinball Photo Gallery. We now have photos of over 400 machines!
---
rec.games.pinball FAQ (Frequently Asked Questions)
We are the host site for the rec.games.pinball FAQ.
---
Pinball Auction Results
We have auction results (prices) for over 14,000 pinball machine auction sales since 1994.
---
Upcoming Events
January 16-18, 2015: Arcade Expo at 700 South Hathaway in Banning, California. This is the first year of this show. It is the largest arcade show in Southern California. Over 550 pinball machines and 200 video arcades. Free seminars and nightly movies. Family-friendly atmosphere. Register by December 15, 2014 for three gifts--goodie bag, t-shirt, collectible poster. For more info visit the website.

March 19-21, 2015: Ohio Pinball & Gameroom Show at Eastwood Expo (NEW LOCATION) Center 5555 Yongstown Warren rd in Niles, Ohio. This is the 11th annual show that features over 150 games on free play. There will be pinball machines, video games, jukeboxes and other arcade games to play, buy and trade. Many venders on site selling supplies and other gameroom items. Home of the Wizard of Ohio pinball tournament featuring classic and modern age pinballs. Note new location. For more info visit the website, or write to Ohio Pinball Show, 4393 Hilltop Dr., Barberton OH 44203.

March 27-29, 2015: Texas Pinball Festival at Embassy Suites in Frisco, Texas. 40,000 sq ft of show space with hundreds of games on free play. Artists, designers, and vendors will be there. Get in free when you bring a game. Tournaments for all ages. Trophies and cash prizes. For more info visit the website.

June 5-7, 2015: Northwest Pinball & Arcade Show at Tacoma Convention Center in Tacoma, Washington. Hundreds of games, prizes, tournaments and seminars. It's the 8th annual show. For more info visit the website.

September 10-12, 2015: Cleveland Pinball & Arcade Show at Holiday Inn 6001 Rockside Rd in Cleveland, Ohio. Over 150 games on free play for your enjoyment. There will be pinballs, arcades, jukeboxes and other games available for purchase all weekend. The show will also feature vendors, tournaments, seminars and a outside flee market. For more info visit the website, send email, or call 330-687-9341.

October 14-18, 2015: Pinball Expo 2015 at the Westin Chicago North Shore, 601 N. Milwaukee Ave, Wheeling (Chicago), Illinois. This is the big show every year and this will be the 31st annual show. This show puts emphasis on the collector and enthusiast and usually includes a factory tour, auction, designer/artist/author autograph session, seminars, parts, machines, and other pinball-related merchandise. This show has major manufacturer support. For more information write Pinball EXPO 2015, 1085 Eagle Trace Rd., Warren, OH 44484, call 1-800-323-FLIP, or visit the web site.


If your pinball event is not listed here please let us know!
---
For more information you may contact us by email, or by email form.
© Copyright Mr. Pinball 2014. All Rights Reserved.