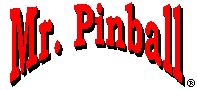 Mr. Pinball restores, buys, sells, trades, and repairs pinball machines. Although we gladly deal with all pinball machines, our specialty is electro-mechanical (pre-1978) pinball machines.
---
Pinball Price Guide
We publish and sell the famous Mr. Pinball Pinball List & Price Guide. The 2018 Edition is here now!
---
Mr. Pinball Classifieds
We run the largest and oldest pinball classified pages on the Internet. This is where to go to list machines or parts, wanted or for sale. Ads on these pages are absolutely FREE to everyone. Today there are: 719 machines for sale, 261 machines wanted, 113 parts for sale ads, and 195 parts wanted ads for a total of 1288 ads.
---
---
---
This is how you can find someone in your local area to help you fix, or find a pinball machine. Or, if you are a collector, here is where to sign up to join with other collectors. This is all free!
---
Pinball Machine Photos
If you would like to view photos of pinball machines, see the Mr. Pinball Photo Gallery. We now have photos of over 400 machines!
---
rec.games.pinball FAQ (Frequently Asked Questions)
We are the host site for the rec.games.pinball FAQ.
---
Pinball Auction Results
We have auction results (prices) for over 14,000 pinball machine auction sales since 1994.
---
Upcoming Events
April 12-14, 2019: Midwest Gaming Classic at Wisconsin Center, 400 W. Wisconsin Avenue in Milwaukee, Wisconsin. All sorts of games-console, computer, arcade and pinball, for sale, free play. For more info visit the website.

May 17-19, 2019: Golden State Pinball Festival at Lodi Grape Festival Grounds in Lodi, California. This is the 8th annual show. Hundreds of games on free play, silent auction, big raffle, adult & kid fun tournaments, Pinball University(R) workshops, swap meet, and more. For more info visit the website.

May 25-27, 2019: Rocky Mtn Pinball Showdown at Denver Marriott Tech Center 4900 S Syracuse St in Denver, Colorado. Clear your calendar Memorial Day weekend -- Saturday, Sunday, and Monday at a new location -- for three amazing days in Denver, Colorado, with hundreds of pinball, retro console and classic arcade video games to play for free with admission. Play a huge game list and variety of themes in pinball machines and classic arcade video games -- no quarters needed. Play, buy, sell, mod, repair, tournament, meetup, and have fun. For more info visit the website, send email, or call 303-938-9889.

July 12-14, 2019: Southern-fried Gameroom Expo at Atlanta Marriott Century Center in Atlanta, Georgia. This is a 3-day convention focused solely on classic arcades, pinball machines, and home gamerooms. The show boasts over 100 full-sized arcade and pinball machines, numerous consoles, vendors, speakers, movie screenings, and more. It is an official stop for the Professional & Amateur Pinball Association (PAPA) circuit tour. The event is a family-friendly event that will be fun for all ages. For more info visit the website, or send email.

October 11-13, 2019: Pin-A-Go-Go at Dixon May fair, 655 S 1st St, Dixon, CA in Dixon, California. This is the longest-running pinball show west of the Mississippi. Join us for our 23rd annual show in Dixon, CA in 2019. For more info visit the website, send email


If your pinball event is not listed here please let us know!
---
For more information you may contact us by email, email form, or by phone at (801) 277-6296 (voice and message), or (801) 277-0888 (message).
© Copyright Mr. Pinball 2019. All Rights Reserved.