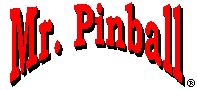 Mr. Pinball restores, buys, sells, trades, and repairs pinball machines. Although we gladly deal with all pinball machines, our specialty is electro-mechanical (pre-1978) pinball machines.
---
Pinball Price Guide
We publish and sell the famous Mr. Pinball Pinball List & Price Guide. The 2018 Edition is here now!
---
Mr. Pinball Classifieds
We run the largest and oldest pinball classified pages on the Internet. This is where to go to list machines or parts, wanted or for sale. Ads on these pages are absolutely FREE to everyone. Today there are: 480 machines for sale, 167 machines wanted, 86 parts for sale ads, and 141 parts wanted ads for a total of 874 ads.
---
---
---
This is how you can find someone in your local area to help you fix, or find a pinball machine. Or, if you are a collector, here is where to sign up to join with other collectors. This is all free!
---
Pinball Machine Photos
If you would like to view photos of pinball machines, see the Mr. Pinball Photo Gallery. We now have photos of over 400 machines!
---
rec.games.pinball FAQ (Frequently Asked Questions)
We are the host site for the rec.games.pinball FAQ.
---
Pinball Auction Results
We have auction results (prices) for over 14,000 pinball machine auction sales since 1994.
---
Upcoming Events -- Due to COVID-19, events within the next 2 months may be cancelled or postponed.
September 19, 2020: Ann Arbor Michigan Pinball Showcase at 8891 Spicer Road in Brighton, Michigan. This was rescheduled from April. The museum has 400 machines on site (free play) ranging from 1950s 'woodrails' to the latest games from Stern Pinball. Every decade, manufacturer and game type is represented at the museum. There are many rare and hard to find games set up and ready to play. All machines are on free play, so one entrance ticket allows unlimited play for the day. There's something for every pinball fan here. Ticket are only available in advance and are limited. Once they are sold, no more tickets will be available. For more info visit the website.

CANCELLED October 9-11, 2020: Pin-A-Go-Go at Dixon May fair, 655 S 1st St, Dixon, CA in Dixon, California. This is the longest-running pinball show west of the Mississippi. Join us for our 24th annual show in Dixon, CA in 2019. For more info visit the website, send email

October 15-17, 2020: Pinball Expo 2020 is a free virtual show this year due to the state of Illinois mandating no gatherings of this size. This is the big show every year and this will be the 36th annual show. This show puts emphasis on the collector and enthusiast and will include a virtual factory tour, seminars, vendor showcases, and much more. This show has major manufacturer support. For more information visit the web site.

June 24-27, 2021: Pintastic Pinball & Game Room Expo at Boxboro Regency Hotel (new location), 242 Adams Place, Boxborough, Massachusetts 01719. The family-friendly pinball and game room show that's centrally located in the 6 New England states. One admission covers free-play rooms, vendor hall, flea market, seminars, and roving entertainment. Entries for the tournaments priced separately. For more info visit the website.


If your pinball event is not listed here please let us know!
---
For more information you may contact us by email, or by email form.
© Copyright Mr. Pinball 2020. All Rights Reserved.