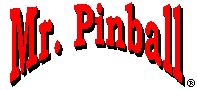 Mr. Pinball restores, buys, sells, trades, and repairs pinball machines. Although we gladly deal with all pinball machines, our specialty is electro-mechanical (pre-1978) pinball machines.
---
Pinball Price Guide
We publish and sell the famous Mr. Pinball Pinball List & Price Guide. The 2018 Edition is here now!
---
Mr. Pinball Classifieds
We run the largest and oldest pinball classified pages on the Internet. This is where to go to list machines or parts, wanted or for sale. Ads on these pages are absolutely FREE to everyone. Today there are: 776 machines for sale, 267 machines wanted, 129 parts for sale ads, and 191 parts wanted ads for a total of 1363 ads.
---
---
---
This is how you can find someone in your local area to help you fix, or find a pinball machine. Or, if you are a collector, here is where to sign up to join with other collectors. This is all free!
---
Pinball Machine Photos
If you would like to view photos of pinball machines, see the Mr. Pinball Photo Gallery. We now have photos of over 400 machines!
---
rec.games.pinball FAQ (Frequently Asked Questions)
We are the host site for the rec.games.pinball FAQ.
---
Pinball Auction Results
We have auction results (prices) for over 14,000 pinball machine auction sales since 1994.
---
Upcoming Events
March 22-24, 2019: Texas Pinball Festival 2019 at Embassy Suites and Convention Center, 7600 John Q Hammons Dr., Frisco, Texas. Over 400 games--pinball machines, classic video games and other game room goodies set up on free play for everyone to enjoy the entire weekend. Vendors, collectors and hobbyists from the surrounding area and beyond will be bringing parts, supplies, game room memorabilia, pinballs, slot machines, jukeboxes and video games for sale. Bring a game, get in FREE. Someone will win a pinball machine. For more info visit the website.


If your pinball event is not listed here please let us know!
---
For more information you may contact us by email, or by email form.
© Copyright Mr. Pinball 2018. All Rights Reserved.