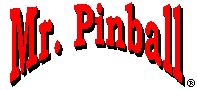 Mr. Pinball restores, buys, sells, trades, and repairs pinball machines. Although we gladly deal with all pinball machines, our specialty is electro-mechanical (pre-1978) pinball machines.
---
Pinball Price Guide
We publish and sell the famous Mr. Pinball Pinball List & Price Guide. The 2013 Edition is now available!
---
Mr. Pinball Classifieds
We run the largest and oldest pinball classified pages on the Internet. This is where to go to list machines or parts, wanted or for sale. Ads on these pages are absolutely FREE to everyone. Today there are: 1157 machines for sale, 596 machines wanted, 291 parts for sale ads, and 557 parts wanted ads for a total of 2601 ads.
---
---
---
This is how you can find someone in your local area to help you fix, or find a pinball machine. Or, if you are a collector, here is where to sign up to join with other collectors. This is all free!
---
Pinball Machine Photos
If you would like to view photos of pinball machines, see the Mr. Pinball Photo Gallery. We now have photos of over 400 machines!
---
rec.games.pinball FAQ (Frequently Asked Questions)
We are the host site for the rec.games.pinball FAQ.
---
Pinball Auction Results
We have auction results (prices) for over 14,000 pinball machine auction sales since 1994.
---
Upcoming Events
June 7-9, 2013: Northwest Pinball & Arcade Show at Tacoma Convention Center in Tacoma, Washington. Hundreds of games, prizes, tournaments and seminars. It's the 5th anniversary show in a great new location. Python Anghelo is a featured speaker this year. For more info visit the website.

July 13-14, 2013: California Extreme, at the Hyatt Regency in Santa Clara, California. This will be the 17th year of the show. This is a video game and pinball show. All games on freeplay. Buy/Sell/Swap/Compete. Also, there will be a lineup of speakers and special activities. For more information send email, or visit the website.

September 27-29, 2013: Fraser Valley Flipout at Castle Fun Park - 36165 North Parallel Road in Abbotsford, British Columbia, Canada. 2nd annual open tournament / IFPA ranking points over $5,000 in cool prizes, cash & bragging rights. Only event of its kind on Canada's west coast. Great collection of old school and modern pins. World class venue/tournament w/top ranking competitors. For more info visit the website, send email, or write to Fraser Valley, PO Box 3333, Misson, BC Canada V2V 4J5.

September 28-29, 2013: 2013 Calgary Pincade Show at Marlborough Park Hall, 6021 Madigan Drive NE in Calgary, Alberta, Canada. A family fun weekend with non-stop pinball and arcade action. Free play, door prizes, fun tournament, local vendors, parts and games for sale. There will also be raffle draws for 2 collectable arcade games. Check the website for all current updates and lists of games coming to the show. For more info visit the website, or send email.



If your pinball event is not listed here please let us know!
---
For more information you may contact us by email, or by email form.
© Copyright Mr. Pinball 2012. All Rights Reserved.