<! ----------- menu ------------------- >

Contents:

Intro
At War
China Lake
Arrival
Assembly
Wheels
Engines
Resurrection
The Crews
Today
Links

<! ------------- body ------------ >

The flight crew of T Square 54, stationed at Saipan Island during the war. James Funk (standing 1st from left), James Taylor (standing 2nd from right), and William Gottfried (kneeling 3rd from right) were present at the Lowry AFB dedication ceremony on Oct. 2, 1987.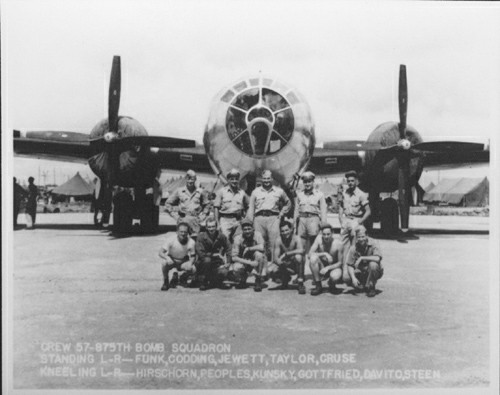 "Mel's Misfits", while the project was in progress. Mel is standing on your extreme right.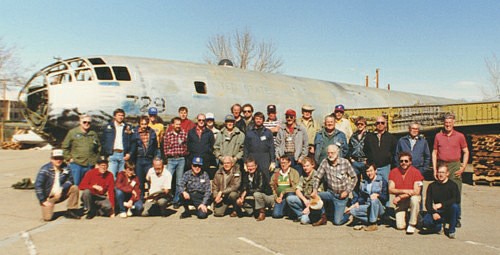 Mel's Misfits, this time in front of the finished product.

Mel Blanscette and Dick Field, from a Denver Post article
Photo courtesy of Denver Post, Jan 11, 1987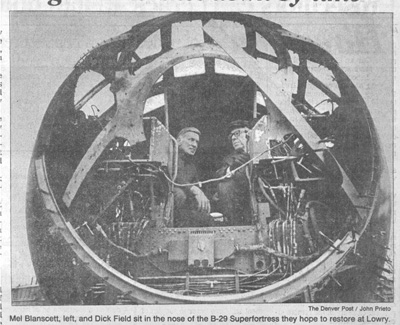 T Square 54 crew members who showed for the dedication ceremony. (Note: Dick Field, kneeling, was not with T Square 54, but was one of the cornerstones of the restoration project.)
Photo courtesy of Lowry Airman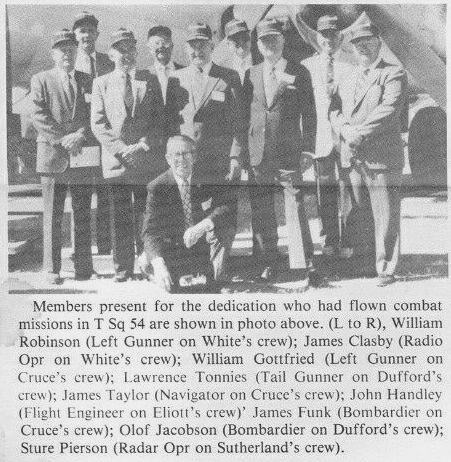 3415 Consolidated Maintenance Squadron, just before we disbanded. We provided support for T Square 54, including machine shop work, cranes, and tow personnel.