<! ----------- menu ------------------- >

Contents:

Intro
At War
China Lake
Arrival
Assembly
Wheels
Engines
Resurrection
The Crews
Today
Links

<! ------------- body ------------ >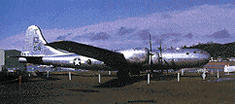 A New Home:
In the mid '90's, as Lowry AFB was closing down and transferring to local ownership, T Square 54 was disassembled, shipped to the Museum of Flight in Seattle, Washington, and reassembled. The goal is to get her as close to flying condition as possible. USAF won't allow her to fly, but she might be able to run the engines and taxi around the ramp.
Latest:
The Museum of Flight is making progress in restoring this historic aircraft. New props, instruments, sheetmetal, rigging, ... as much effort as possible is being put into making her as mission ready as time and money will permit.
Unfortunately, the Museum of Flight does not have enough room to keep her indoors, and rain and snow can accelerate the corrosion at an alarming rate. Even some of the new sheet metal that we installed for static display in Colorado had to be replaced because of corrosion, all due to moisture problems at Denver as well as Seattle.

If you want to donate time or money please contact the museum at the address below:

Museum of Flight
9404 East Marginal Way South
Seattle, Washington 98108-4097
Attn: Tom Dawson, B-29 Project Manager

Phone: (206) 764-5700
Fax: (206) 764-5707