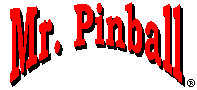 Mr. Pinball restores, buys, sells, trades, and repairs pinball machines. Although we gladly deal with all pinball machines, our specialty is electro-mechanical (pre-1978) pinball machines.
---
Pinball Price Guide
We publish and sell the famous Mr. Pinball Pinball List & Price Guide. The 2016 Edition is now here!
---
Mr. Pinball Classifieds
We run the largest and oldest pinball classified pages on the Internet. This is where to go to list machines or parts, wanted or for sale. Ads on these pages are absolutely FREE to everyone. Today there are: 866 machines for sale, 322 machines wanted, 178 parts for sale ads, and 318 parts wanted ads for a total of 1684 ads.
---
---
---
This is how you can find someone in your local area to help you fix, or find a pinball machine. Or, if you are a collector, here is where to sign up to join with other collectors. This is all free!
---
Pinball Machine Photos
If you would like to view photos of pinball machines, see the Mr. Pinball Photo Gallery. We now have photos of over 400 machines!
---
rec.games.pinball FAQ (Frequently Asked Questions)
We are the host site for the rec.games.pinball FAQ.
---
Pinball Auction Results
We have auction results (prices) for over 14,000 pinball machine auction sales since 1994.
---
Upcoming Events
October 29, 2016: Domino's Pinball Launch Party and Tournament at Pocketeer Billiards and Bar, 2444 Clinton St. in Buffalo, New York. We're teaming up with Domino's, Spooky Pinball and Pocketeer Billiards and Bar to bring the first launch party for the new Domino's Spectacular Pinball Adventure pinball machine to Buffalo, NY. Tournament details and format: - high score tournament on the new Domino's machine - qualifying is from 5-11 p.m. (no qualfying games will be started past 10:59 p.m.) - open qualifying, come and go as you please - top eight high scores will go to the playoffs - playoffs will be two rounds and begin at 11 p.m. - entries are just $1 per high score attempt (plus coin drop) - unused entries will not be refunded - this is an IFPA-endorsed event and you'll wppr points - it's a fun, casual tournament - all skill levels are welcome. Stop down, hang out and check out the latest release from Spooky Pinball. They have giveaways from Domino's and Spooky Pinball all night. As it's Halloween weekend, costumes are encouraged. For more info visit the website, or send email.

November 11-12, 2016: Houston Arcade Expo at Crowne Plaza 290 in Houston, Texas. 15th annual, with 200+ games, Paul Faris, Jeremy Packer—aka zombie yeti and more guests. Tournaments, free swap meet, costume contest and more. For more info visit the website.

November 11-13, 2016: Grande Ole Gameroom Expo at Franklin Marriott Cool Springs, 700 Cool Springs Blvd. in Franklin, Tennessee. Nashville's first annual arcade and pinball expo, 20 minutes south of Nashville in the Cool Springs Galleria Shopping and Business District of Franklin. Over 200 arcade and pinball games all set to free play. Play classic pinball and arcade games as well as new games. For more info visit the website.

November 11-13, 2016: Shoot The Moon -- Return of The Pacific Pinball Exposition at 1680 Viking Street, Building 169 in Alameda, California. Shoot The Moon marks the return of the Pacific Pinball Museum's 7th Pacific Pinball Exposition. Come and enjoy over 400-450 games, from the early 1930s to the modern solid state games, with an emphasis on the golden age of pinball. There will be tournaments, seminars, games for sale, an auction and raffle, and tours of our show floor. The PPM has recently moved to a new, larger warehouse, and this is our first event held here.. For more info visit the website, or write to mschiess@pacificpinball.org.

March 24-26, 2017: Texas Pinball Festival 2017 at Embassy Suites and Convention Center, 7600 John Q Hammons Dr., Frisco, Texas. Over 400 pinball machines, classic video games and other game room goodies set up on free play for everyone to enjoy the entire weekend. Vendors, collectors and hobbyists from the surrounding area and beyond will be bringing parts, supplies, game room memorabilia, pinballs, slot machines, jukeboxes and video games for sale. You can bring your own machines to display. Someone will win a pinball machine. For more info visit the website.

October 11-15, 2017: Pinball Expo 2017 at the Westin Chicago North Shore, 601 N. Milwaukee Ave, Wheeling (Chicago), Illinois. This is the big show every year and this will be the 33rd annual show. This show puts emphasis on the collector and enthusiast and usually includes a factory tour, auction, designer/artist/author autograph session, seminars, parts, machines, and other pinball-related merchandise. This show has major manufacturer support. For more information write Pinball EXPO 2017, 1085 Eagle Trace Rd., Warren, OH 44484, call 1-800-323-FLIP, or visit the web site.


If your pinball event is not listed here please let us know!
---
For more information you may contact us by email, email form, or by phone at (801) 277-6296 (voice and message), or (801) 277-0888 (message).
© Copyright Mr. Pinball 2016. All Rights Reserved.