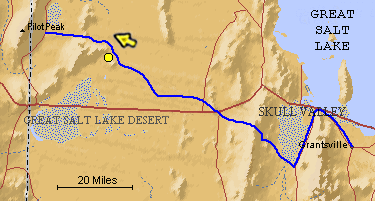 The blue line is the Hastings Trail, the yellow dot is the location
of the camera and the yellow arrow is the camera direction.
Photograph: Copyright © 1963 Roy D. Tea
Made Summer, 1963, Great Salt Lake Desert, Utah.
View northwest. The blue line approximates the trail which runs from bottom to top. Having proceeded mostly northwest across the flat the trail turns a little to the west at Silver Island Point, lower right. The arrow marks Donner-Reed Pass where the trail crosses the narrow neck of land connecting Silver Island, left, and Crater Island, right. Beyond the pass the trail crosses the final eight miles of flat bearing slightly north of due west before reaching Donner Spring, at the foot of Pilot Peak, out of the picture on the left.
[ Return to Hastings Cutoff Exhibition ]
[ Return to Gallery ] [ Crossroads Home ]
Photographs may not be used without permission of their copyright owners.
Original content copyright © 1997-2001 by
Utah Crossroads Chapter, Oregon-California Trails Association. All rights reserved.
Site design by Steven L. Berlin
E-mail regarding this site: Utah Crossroads Webmaster
Revised: 10/25/04