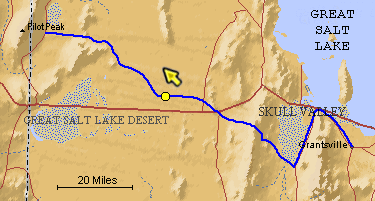 The blue line is the Hastings Trail, the yellow dot is the location
of the camera and the yellow arrow is the camera direction.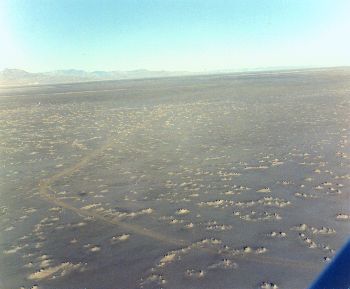 Photograph: Copyright © 1971 Roy D. Tea
Made 1971, Great Salt Lake Desert, Utah.
Here, 12± miles southeast of Floating Island, the trail takes a sharp turn to the right, or northwest, before bearing left again toward Pilot Peak. The mountain does not appear in this photograph, it lies south of the camera's view, but faintly seen on the distant skyline is the northern extent of the Pilot Peak range. Firmer ground to the north made it possible for the pioneers to correct their line of travel here. Numerous small shortcuts across this "Big Bend" are visible on close observation. The bend is very prominent on commercial aerial photographs made for survey and documentation purposes before parts of the trail were flooded in 1987-89. The flooding occurred as huge pumps moved 1.5 million gallons of water per minute around the clock from the Great Salt Lake onto the area generally north of here to alleviate flooding around the lake's shoreline from several years' unusually heavy precipitation.
[ Return to Hastings Cutoff Exhibition ]
[ Return to Gallery ] [ Crossroads Home ]
Photographs may not be used without permission of their copyright owners.
Original content copyright © 1997-2001 by
Utah Crossroads Chapter, Oregon-California Trails Association. All rights reserved.
Site design by Steven L. Berlin
E-mail regarding this site: Utah Crossroads Webmaster
Revised: 10/25/04