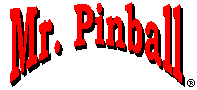 Mr. Pinball restores, buys, sells, trades, and repairs pinball machines. Although we gladly deal with all pinball machines, our specialty is electro-mechanical (pre-1978) pinball machines.
---
Pinball Price Guide
We publish and sell the famous Mr. Pinball Pinball List & Price Guide. The 2017 Edition is NOW available!
---
Mr. Pinball Classifieds
We run the largest and oldest pinball classified pages on the Internet. This is where to go to list machines or parts, wanted or for sale. Ads on these pages are absolutely FREE to everyone. Today there are: 958 machines for sale, 267 machines wanted, 154 parts for sale ads, and 266 parts wanted ads for a total of 1645 ads.
---
---
---
This is how you can find someone in your local area to help you fix, or find a pinball machine. Or, if you are a collector, here is where to sign up to join with other collectors. This is all free!
---
Pinball Machine Photos
If you would like to view photos of pinball machines, see the Mr. Pinball Photo Gallery. We now have photos of over 400 machines!
---
rec.games.pinball FAQ (Frequently Asked Questions)
We are the host site for the rec.games.pinball FAQ.
---
Pinball Auction Results
We have auction results (prices) for over 14,000 pinball machine auction sales since 1994.
---
Upcoming Events
August 12, 2017: Saratoga Pinball Show at Saratoga Regional YMCA, 290 West Ave in Saratoga Springs, New York. The show will feature approximately 50 pinball machines from the past and present, all set on free play. The show will also feature an indoor flea market with various pinball & arcade games and parts for sale. Proceeds from the show will go to charity. For more info visit the website.

September 22-24, 2017: Vancouver Flipout Pinball Expo at Holiday Inn Downtown in Vancouver, British Columbia, Canada. Canada's premier pinball expo & PAPA circuit event. Featuring 100+ games on free play, tournaments, speakers & pinball VIP's. Located in the heart of beautiful Vancouver!. For more info visit the website, send email, or call 1-855-366-4876.

September 28-30, 2017: White Rose Gameroom Show at York Fairgrounds & Expo Center in York, Pennsylvania. 22nd annual show. Over 150 pinball machines and other coin-op games. Indoor and outdoor flea market. Tournaments, door prizes, multiple vendors. Visit the website for more info.

October 11-15, 2017: Pinball Expo 2017 at the Westin Chicago North Shore, 601 N. Milwaukee Ave, Wheeling (Chicago), Illinois. This is the big show every year and this will be the 33rd annual show. This show puts emphasis on the collector and enthusiast and usually includes a factory tour, auction, designer/artist/author autograph session, seminars, parts, machines, and other pinball-related merchandise. This show has major manufacturer support. For more information write Pinball EXPO 2017, 1085 Eagle Trace Rd., Warren, OH 44484, call 1-800-323-FLIP, or visit the web site.


If your pinball event is not listed here please let us know!
---
For more information you may contact us by email, email form, or by phone at (801) 277-6296 (voice and message), or (801) 277-0888 (message).
© Copyright Mr. Pinball 2016. All Rights Reserved.