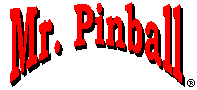 Mr. Pinball restores, buys, sells, trades, and repairs pinball machines. Although we gladly deal with all pinball machines, our specialty is electro-mechanical (pre-1978) pinball machines.
---
Pinball Price Guide
We publish and sell the famous Mr. Pinball Pinball List & Price Guide. The 2017 Edition is NOW available!
---
Mr. Pinball Classifieds
We run the largest and oldest pinball classified pages on the Internet. This is where to go to list machines or parts, wanted or for sale. Ads on these pages are absolutely FREE to everyone. Today there are: 933 machines for sale, 273 machines wanted, 157 parts for sale ads, and 281 parts wanted ads for a total of 1644 ads.
---
---
---
This is how you can find someone in your local area to help you fix, or find a pinball machine. Or, if you are a collector, here is where to sign up to join with other collectors. This is all free!
---
Pinball Machine Photos
If you would like to view photos of pinball machines, see the Mr. Pinball Photo Gallery. We now have photos of over 400 machines!
---
rec.games.pinball FAQ (Frequently Asked Questions)
We are the host site for the rec.games.pinball FAQ.
---
Pinball Auction Results
We have auction results (prices) for over 14,000 pinball machine auction sales since 1994.
---
Upcoming Events
February 18, 2018: Private Collection Auction at Fontana Shopping Center at 7924 E. 50th St., Tulsa, Oklahoma. 160 Pinball Machines at auction. Includes: Bone Busters, Dancing Lady, Night Rider, Poker Face, Star Trek, Big Daddy, Four Horsemen, Old Chicago, Eager Beaver, Strange Science, Cover Girl, Strikes and Spares, Hollywood, Triple Action, Flicker, Devils Dare, Trident, Flying Chariots, Stingray, Hee Haw, Swinger, Egghead, Arlington, Solids N' Stripes, and more. A few video arcades available as well. For more info, including photos, visit the website.

March 22-25, 2018: Ohio Pinball Show at Emidio Expo Center, 48 E Bath Rd in Cuyahoga Falls, Ohio. 14th annual show with over 120 games on free play. Vendors with parts, mods and games for sale. Tournaments for all ages. There will also be an auction on Saturday morning, March 24th. For more info visit the website.

May 18-20, 2018: Golden State Pinball Festival at Lodi Grape Festival Grounds in Lodi, California. This is the 7th annual show. Hundreds of games on free play, silent auction, big raffle, adult & kid fun tournaments, Pinball University(R) workshops, swap meet, and more. For more info visit the website.

June 28-July 1, 2018: Pintastic New England at Sturbridge Host Hotel in Sturbridge, Massachusetts. The family-friendly pinball and game room show that's centrally located in the 6 New England states. One admission covers free-play rooms, vendor hall, flea market, seminars, and roving entertainment. Entries for the tournaments priced separately. Thursday and Sunday are free-play rooms only. For more info visit the website.

July 28-29, 2018 (tentative): California Extreme, at the Hyatt Regency in Santa Clara, California. This will be the 23rd year of the show. This is a video game and pinball show. All games on freeplay. Buy/Sell/Swap/Compete. Also, there will be a lineup of speakers and special activities. For more information send email, or visit the website.

October 12-14, 2018: Pin-A-Go-Go at Dixon May Fair in Dixon, California. This is the 22nd annual Pin-A-Go-Go, the longest running pinball show west of the Mississippi. For more info visit the website, send email, or write to team@pin-a-go-go.org.


If your pinball event is not listed here please let us know!
---
For more information you may contact us by email, or by email form.
© Copyright Mr. Pinball 2017. All Rights Reserved.