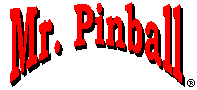 Mr. Pinball restores, buys, sells, trades, and repairs pinball machines. Although we gladly deal with all pinball machines, our specialty is electro-mechanical (pre-1978) pinball machines.
---
Pinball Price Guide
We publish and sell the famous Mr. Pinball Pinball List & Price Guide. The 2018 Edition is here now!
---
Mr. Pinball Classifieds
We run the largest and oldest pinball classified pages on the Internet. This is where to go to list machines or parts, wanted or for sale. Ads on these pages are absolutely FREE to everyone. Today there are: 683 machines for sale, 264 machines wanted, 111 parts for sale ads, and 212 parts wanted ads for a total of 1270 ads.
---
---
---
This is how you can find someone in your local area to help you fix, or find a pinball machine. Or, if you are a collector, here is where to sign up to join with other collectors. This is all free!
---
Pinball Machine Photos
If you would like to view photos of pinball machines, see the Mr. Pinball Photo Gallery. We now have photos of over 400 machines!
---
rec.games.pinball FAQ (Frequently Asked Questions)
We are the host site for the rec.games.pinball FAQ.
---
Pinball Auction Results
We have auction results (prices) for over 14,000 pinball machine auction sales since 1994.
---
Upcoming Events
May 25-27, 2019: Rocky Mtn Pinball Showdown at Denver Marriott Tech Center 4900 S Syracuse St in Denver, Colorado. Clear your calendar Memorial Day weekend -- Saturday, Sunday, and Monday at a new location -- for three amazing days in Denver, Colorado, with hundreds of pinball, retro console and classic arcade video games to play for free with admission. Play a huge game list and variety of themes in pinball machines and classic arcade video games -- no quarters needed. Play, buy, sell, mod, repair, tournament, meetup, and have fun. For more info visit the website, send email, or call 303-938-9889.

May 31-June 2, 2019: Northwest Pinball and Arcade Show at Tacoma Convention Center in Tacoma, Washington. The convention center is located at 1500 Broadway, Tacoma, WA 98402. This is the 12th year of the show and it's one of the biggest shows in the world, featuring over 400 pinball and arcade games from the 1950s to the newest games. Includes: 5 pinball tournaments, over a dozen satellite pinball tournaments leading up to the show where you can win prizes, weekend passes, and tournament entries. This show draws over 4,000 collectors, players and fans of classic coin-op games. Top national and local vendors and sponsors. One of the best seminar and speaker lineups of any show, run by our top notch video and audio team. World record high score attempts. Tons of raffle items, prizes and merchandise. Win a pinball or arcade game each day the show. Dozens of one of a kind homebrew games, whitewoods, prototypes, rare games and the debut of newest games from pinball and arcade manufacturers. Nice modern air conditioned convention center with 2 hotels within a block of the venue, situated near bars, restaurants and in a town with a dozen microbreweries, many within walking distance. For more info visit the website.

June 27-30, 2019: Pintastic Pinball & Game Room Expo at Sturbridge Host Hotel in Sturbridge, Massachusetts. The family-friendly pinball and game room show that's centrally located in the 6 New England states. One admission covers free-play rooms, vendor hall, flea market, seminars, and roving entertainment. Entries for the tournaments priced separately. For more info visit the website.

July 12-14, 2019: Southern-fried Gameroom Expo at Atlanta Marriott Century Center in Atlanta, Georgia. This is a 3-day convention focused solely on classic arcades, pinball machines, and home gamerooms. The show boasts over 100 full-sized arcade and pinball machines, numerous consoles, vendors, speakers, movie screenings, and more. It is an official stop for the Professional & Amateur Pinball Association (PAPA) circuit tour. The event is a family-friendly event that will be fun for all ages. For more info visit the website, or send email.

October 11-12, 2019: White Rose Gameroom Show at York Fairgrounds & Expo Center in York, Pennsylvania. Over 150 pinball machines and other coin-op games. Indoor and outdoor flea market. Tournaments, door prizes, multiple vendors. Visit the website for more info.

October 11-13, 2019: Pin-A-Go-Go at Dixon May fair, 655 S 1st St, Dixon, CA in Dixon, California. This is the longest-running pinball show west of the Mississippi. Join us for our 23rd annual show in Dixon, CA in 2019. For more info visit the website, send email

October 16-19, 2019: Pinball Expo 2019 at the Westin Chicago North Shore, 601 N. Milwaukee Ave, Wheeling (Chicago), Illinois. This is the big show every year and this will be the 35th annual show. This show puts emphasis on the collector and enthusiast and usually includes a factory tour, auction, designer/artist/author autograph session, seminars, parts, machines, and other pinball-related merchandise. This show has major manufacturer support. For more information visit the web site.


If your pinball event is not listed here please let us know!
---
For more information you may contact us by email, or by email form.
© Copyright Mr. Pinball 2019. All Rights Reserved.