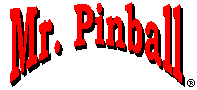 Mr. Pinball restores, buys, sells, trades, and repairs pinball machines. Although we gladly deal with all pinball machines, our specialty is electro-mechanical (pre-1978) pinball machines.
---
Pinball Price Guide
We publish and sell the famous Mr. Pinball Pinball List & Price Guide. The 2016 Edition is now here!
---
Mr. Pinball Classifieds
We run the largest and oldest pinball classified pages on the Internet. This is where to go to list machines or parts, wanted or for sale. Ads on these pages are absolutely FREE to everyone. Today there are: 874 machines for sale, 344 machines wanted, 157 parts for sale ads, and 303 parts wanted ads for a total of 1678 ads.
---
---
---
This is how you can find someone in your local area to help you fix, or find a pinball machine. Or, if you are a collector, here is where to sign up to join with other collectors. This is all free!
---
Pinball Machine Photos
If you would like to view photos of pinball machines, see the Mr. Pinball Photo Gallery. We now have photos of over 400 machines!
---
rec.games.pinball FAQ (Frequently Asked Questions)
We are the host site for the rec.games.pinball FAQ.
---
Pinball Auction Results
We have auction results (prices) for over 14,000 pinball machine auction sales since 1994.
---
Upcoming Events
August 25-27, 2016: Arcade Video & Game Room Expo 2016 at Crowne Plaza Chicago O'Hare 5440 N River Rd in Rosemont, Illinois. Expo guests include: Billy Mitchell, Walter Day, Richie Knucklez, Eugene Jarvis, Joel West and many more. Enter Kong Off 6 Richie Knucklez, Space Invaders world record holder as well as 7 other arcade titles, will be hosting this pre-qualifying event. Challenge The Champ--compete against Billy Mitchell on Pac-Man & Donkey Kong for your chance to win prizes. Meet and greet Walter Day--Walter will present awards and trading cards to those who have contributed to the industry. Meet and greet Eugene Jarvis--Eugene is a former game designer and programmer of Williams Electronics and president of Raw Thrills Inc. who will be discussing his catalog of games. Challenge The Champ--Compete against Joel West on Berzerk for your chance to win prizes. Meet and greet Gary Stern--Gary will discuss the history of Stern Pinball and their short-lived involvement in video. Challenge The Champ--compete against Mark Robbins, former USAA #1 ranking air hockey professional. Bus trip to Galloping Ghost Arcade--Visit the world's largest video arcade with over 500 games. Buses leave hotel on Thursday at 6:30 p.m. See Pac-Man in person--Get your picture taken with Pac-Man on Saturday. It's fun for the whole family. Over 200 arcade, video & coin operated machines set on free play. Video & coin operated machines for sale. Be a part of the vintage arcade video tournament. Vendor's area: purchase arcade, video & coin operated machines, parts, magazines, books, DVDs and more. View The King of Kong and other movie titles. Be a part of the 35th anniversary of Galaga and Donkey Kong. Panel discussions and much more. We want your video games. Bring your games to the expo for free admission. For full details contact Jason: 234-281-5919.. For more info visit the website, send email, call Mike Pacak: 330-518-3141 or Tony: 330-503-5539, or write to PO Box 2187 - Warren, 44484 OH.

September 8-10, 2016: Cleveland Pinball & Arcade Show at Holiday Inn, 6001 Rockside Rd in Independence, Ohio. 2nd annual show with over 150 pinball, jukeboxes video games and arcades all on free play. IFPA tournaments for all skill levels. Vendors, collectors and hobbyist will be bringing part supplies, game room memorabilia, pinballs, slot machines and arcades for sale. There will also be a outdoor flea market and seminars with guest speakers during the show. For more info visit the website, send email, or call 330-687-9341.

September 23-25, 2016: Vancouver Flipout Pinball Expo 2016 at Holiday Inn Downtown in Vancouver, British Columbia, Canada. Formerly known as Fraser Valley Flipout. Over 100 pinball machines, speakers, vendors and IFPA pinball tournaments for all ages & skill levels. Don't miss this 'eh?. For more info visit the website, send email, call 1-855-366-4876, or write to Vancouver FlipOut 2016, 33237 1st Ave., Mission, BC V2V 1G7, CANADA.

September 30-October 1, 2016: The White Rose Gameroom Show at The York Expo Center (Fairgrounds) in York, Pennsylvania. Pinball machines, video games, jukeboxes and other arcade games for play, sale and trade. Free admission flea market area. Lots of door prizes and tournaments. Many vendors will be selling supplies, items for your gameroom and much more. For more info visit the website, send email, or call 717-845-8667.

October 12-16, 2016: Pinball Expo 2016 at the Westin Chicago North Shore, 601 N. Milwaukee Ave, Wheeling (Chicago), Illinois. This is the big show every year and this will be the 32nd annual show. This show puts emphasis on the collector and enthusiast and usually includes a factory tour, auction, designer/artist/author autograph session, seminars, parts, machines, and other pinball-related merchandise. This show has major manufacturer support. For more information write Pinball EXPO 2016, 1085 Eagle Trace Rd., Warren, OH 44484, call 1-800-323-FLIP, or visit the web site.

November 11-12, 2016: Houston Arcade Expo at Crowne Plaza 290 in Houston, Texas. 15th annual, with 200+ games, Paul Faris, Jeremy Packer—aka zombie yeti and more guests. Tournaments, free swap meet, costume contest and more. For more info visit the website.


If your pinball event is not listed here please let us know!
---
For more information you may contact us by email, email form, or by phone at (801) 277-6296 (voice and message), or (801) 277-0888 (message).
© Copyright Mr. Pinball 2016. All Rights Reserved.