U of U Construction Impacts
The Utah Department of Transportation (UDOT) is planning major work on North Campus Drive on the University of Utah campus during May and June. Almost all of us use part of this road to get to and from our UARC meetings at the Warnock Engineering Building. The construction will affect most people attending the May or June meeting.
The old pavement is going to be removed 18 inches down from the current surface, so it will be best not to try to use this road. The only guarantee is that one eastbound lane will be kept open so that emergency vehicles coming from downtown can still bounce their way to the University Hospital and Primary Children's Hospital. The UDOT website says:
All non-emergency traffic is encouraged to take South Campus Drive, 500 South or Foothill Drive to reach their destinations.
Below, in dark blue, is a recommended alternate route to Warnock. It avoids North Campus Drive altogether. The construction area on North Campus Drive is shown in light blue along with other areas that will undergo construction later in the summer.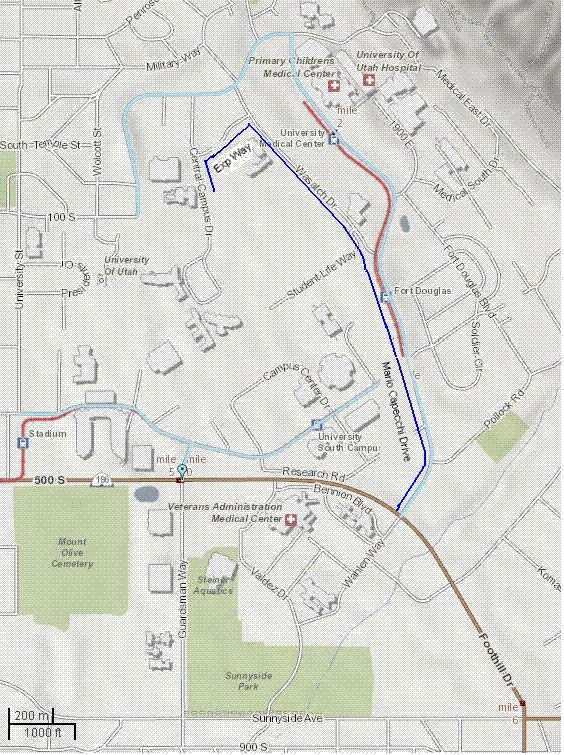 The recommended route is shown by the dark blue line.
Turn onto Mario Capecchi Drive. That will be left if coming east on 500 South; right if coming northwest from Foothill Drive.
When approaching the Olympic bridge, get in the left turn lane and turn left, crossing the Trax tracks, onto Wasatch Drive.
Look for Exploration Way on the left and turn left there.
Where Exploration Way ends, turn left onto Central Campus Drive and go a short distance to the Warnock Engineering Building.
For more information see: