News About UARC and Ham Radio in Utah
General Class Starts Mar. 25
[03-04-13]
Morris Farmer, AD7SR, will be teaching a class for those interested in obtaining the General Class amateur license. It will be held on Monday evenings starting March 25 and running for about seven weeks. Each session will start at 7 P.M. and last about two hours. Location is Morris' home, about 5000 South and 1500 East in the Salt Lake Valley.
There is no charge for the course. The text will cost $30 and will be available the first night of the course through UARC. If you are interested or have questions please contact Morris Farmer, AD7SR, at ad7sr@comcast.net.
---
EComm Hamfest in Ogden April 20
[01-21-13]
The Ogden Amateur Radio Club (OARC) and Weber County ARES are holding a day-long hamfest on Saturday, April 20. The location will be the Ogden-Weber Applied Technical College, 200 North Washington Boulevard in Ogden. The event will run from 8 A.M. to 3 P.M.
We assume that "EComm" implies an emphasis on emergency communications. Activities will include seminars, swap tables, antenna building, license testing, and raffles.
For more information and to pre-register see tinyurl.com/ecomm2013.
Utah 2012 Field Day Scores
[11-14-12]
The results are in! The scores from the 2012 Field Day contest, held on June 23 and 24, are now available on the ARRL
web site
and in
QST
magazine. There were 23 entries from Utah, 15 from portable and mobile stations, and 8 from fixed stations, including emergency operating centers (class "F"). The Utah DX Association maintained its place at the top of the list. We are happy to see that UARC made a significant improvement in score and percentile within its class since the 2011 event.
A station using five transmitters running a kilowatt each can be expected to make more points than one running a single QRP CW station, so the fairest way to compare stations in different entry classes seems to be to show the percentile of each within its entry class. (Percentile is the percentage of entrants who made lower scores than the one being rated.)
Our tabulation appears below:
Mobile and Portable Stations (in order of percentile)

Call

Place

out of

Class

Score

QSOs

Pctl

Pctl
2011
Group or Club Name

AD7KG
7
316
3A
9646
3207
97.8
99.2
Utah DX Assn

W7SP
15
316
3A
8624
2501
95.6
79.1
Utah ARC

NN7ZZ
10
112
1B1B
4130
392
91.1
—


W7DRC
3
18
2AB
5480
661
83.3
—
Dixie ARC

K7DAV
121
408
2A
3184
664
70.3
83.4
Davis Cty ARC

NR7E
9
26
1B2
880
315
65.4
—


W7IVM
36
86
5A
3490
613
58.1
32.5
Bridgerland ARC

WC6R
28
59
1B1
522
93
52.5
—


W7SU
212
408
2A
1870
395
48.0
35.4
Ogden ARC

K7GL
181
316
3A
2012
547
42.7
56.2
Wasatch Back Tri-County AR Group

WB6HVH/7
79
112
1B1B
520
37
29.5
—


N7BO
228
316
3A
1588
415
27.8
—
Rainbow Canyon ARC

W7BAR
127
158
4A
1652
318
19.6
12.5
Borderline ARC

K6VHF
38
44
1C
136
18
13.6
—


N7TOX
53
59
1B1
192
21
10.2
—


Fixed Stations (in order of percentile)

Call

Place

out of

Class

Score

QSOs

Pctl

Pctl
2011
WA7LNW
13
420
1D
1309
716
96.9
93.1
N0KGM
6
37
1F
2054
532
83.8
81.6
K7EA
48
255
1E
2140
533
81.2
83.0
WI7J
78
255
1E
1292
571
69.4
12.8
K7JL
173
420
1D
252
101
58.8
—
K7DAC
211
420
1D
210
160
49.8
—
KD7BYU
214
255
1E
252
51
16.1
—
KE7EGG
32
37
1F
300
115
13.5
—
Key to Entry Classes
Starting number
The number that begins each class is the number of simultaneous transmitters on the air. For example, UARC's 3A class indicates there was a maximum of three transmitters on the air at any given time.
First Letter
The letter that follows the starting number tells the type of operation:

| | |
| --- | --- |
| A: | A club or group portable with three or more operators |
| B: | A non-club group portable station using one or two operators |
| C: | A mobile station |
| D: | A home station using commercial power |
| E: | A home station using emergency power |
| F: | A station at an Emergency Operating Center (EOC) |

Second number
A "1" or "2" following the letter indicates the number of operators. Class B entries are subdivided in this way.
Final "B"
A "B" following the number of operators or the class letter indicates an operation powered entirely by batteries and running no more than five watts transmitter output power.

Example: Class 1B2B means a single-transmitter portable operation with two operators using only batteries for power and running five watts or less.
---
Field Day 2012 Report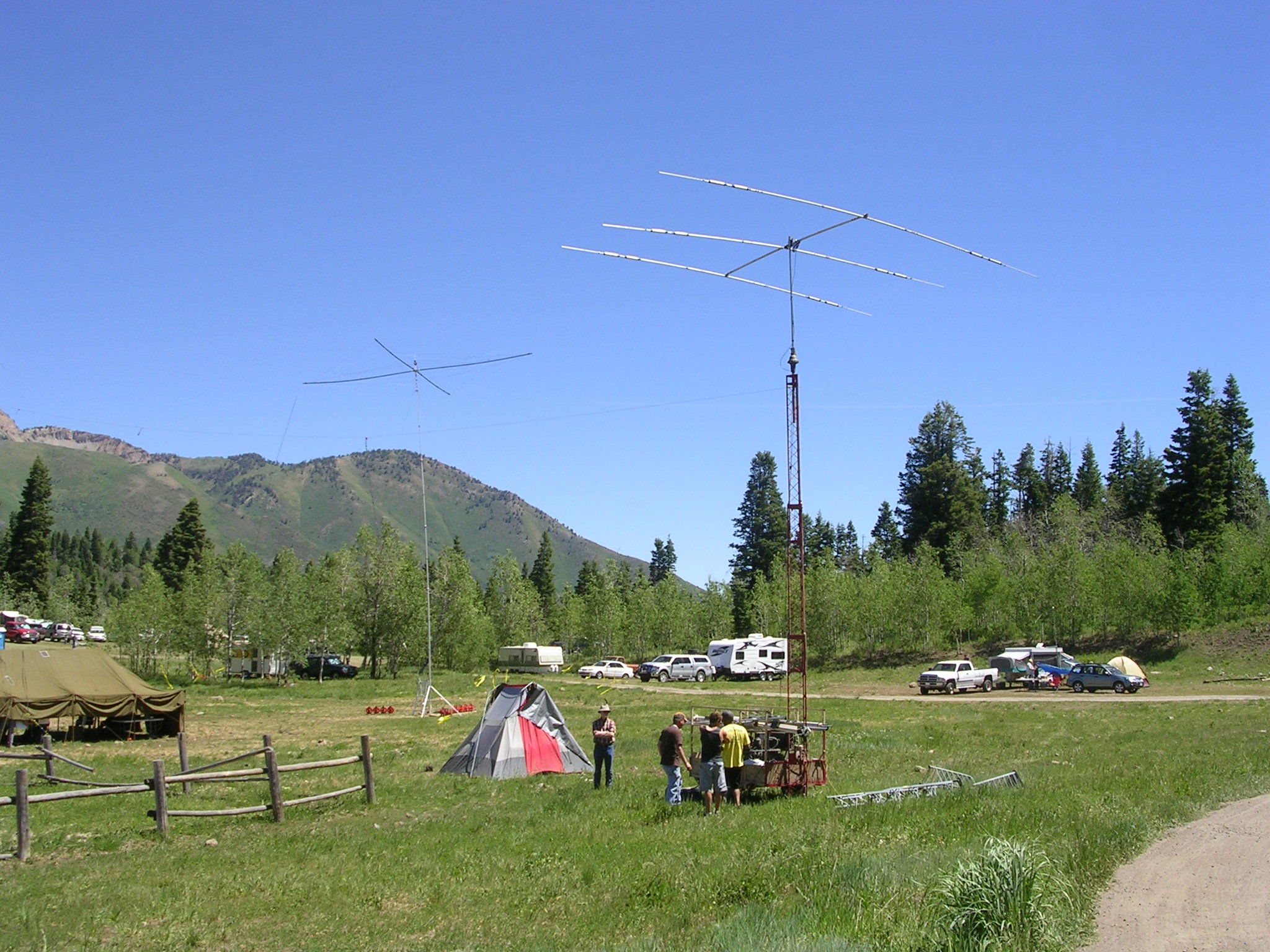 The A-3 Tri-bander and the Spider Beam
(Photo by KD7TDZ)
Also see Field Day Photo Page.
[08-06-12]
By most measures UARC's entry in the 2012 Field Day contest was one of the most successful in recent years. We entered this year in the 3A (three simultaneous transmitters) class instead of 2A that we had chosen in several recent years. We even managed to keep two of the stations active for the entire 24 hours. Our contact count was in the neighborhood of double last year's.
Field Day Chairman Brett Sutherland, N7KG, was all smiles as the event drew to a close on Sunday afternoon, June 24. Not only had we made a large number of contacts, we had a lot of people who stayed long enough to help with the tear-down.
A good part of our success can be attributed to Max George, NG7M. Max (aka Matt) gave the program at our June meeting and asked if he could come to our Field Day and operate CW. As a well-seasoned CW contest operator, he would have been welcomed with open arms just to come up and operate. But he also volunteered a complete CW station with trailer, antenna, mast, and a K-3 transceiver! We condescended to allow him to bring his gear and also do most of the CW operating.
Unlike other years, most of the setup was done by Friday night, we started operating on time at noon on Saturday, the generator ran happily the whole time, and Dave Felgar, NJ7A, brought along a 6-meter station that brought us an extra 40 QSOs via sporadic E.
We had many more single sideband contacts than in recent years, making more than three times the number from last year. Part of this increase undoubtedly owes to having two SSB stations instead of just one. But another factor was undoubtedly the person who was likely the most prolific SSB QSO-getter, Nathan Sutherland, KD7YYN. Unfortunately for us, Nathan is heading off to college this fall and may not be available next year.
For the first time, activities included a tour of the site to help the newcomers and XYLs get a feel for what was going on.
A total of 18 operators took a turn at the GOTA ("Get on the Air") station making anywhere from 1 to 31 contacts each.
Our score wasn't remarkable compared to the serious contest clubs, but it seemed to be a big improvement over several recent years. Here is the breakdown of contacts with a comparison to 2011:
Band
CW
SSB
Total
2012
2011
2012
2011
2012
2011
80
43
—
180
53
223
53
40
261
113
122
46
383
159
20
567
479
559
141
1126
620
15
335
41
216
37
551
78
6
—
—
40
—
40
—
GOTA
—
—
178
149
178
149
Total
1206
633
1295
426
2501
1059
QSO Pts
2412
1266
1295
426
3707
1692
Power Multiplier
X2
X2
Subtotal
7414
3384
Bonus Points
100% Emergency Power
300
200
Media Publicity
100
100
Setup in Public Place
100
100
Information Table
—
100
NTS Message to SM
100
100
W1AW Field Day Bulletin
100
100
Natural Power QSOs
100
100
Visit by Served Agency Official
100
—
Two operators under 18
40
20
Three GOTA ops making >20 QSOs
120
80
Submitted via web
50
50
Educational Activity
100
100
Grand Total
8624
4434
This is the score as submitted on July 24, the last possible day. To get it all together we had to look for alternate ways to extract data from computers whose floppy drives didn't match the rest of the world, decipher some creative handwriting, and interpret interesting entries in the GOTA log. (What does an on-time of "57.22" mean?)
The Field Day Chairman and the UARC President would both like to thank everyone who helped by operating, setting up, tearing down, supplying equipment, mentoring newcomers, giving classes, cooking, or helping obtain bonus points. It was a wonderful cooperative group effort.
We now have a Photo Page put together with contributions from several photographers.
---
Web Site Gets New Look
[11-21-09]
You've probably noticed a new look to the UARC web site. The new design was created by Gary Wong, AB1IP, who won our web design contest last spring. UARC President John Hardy, K7ALA, recently applied the new design to all the most commonly accessed pages. Thanks to Gary and John!
---